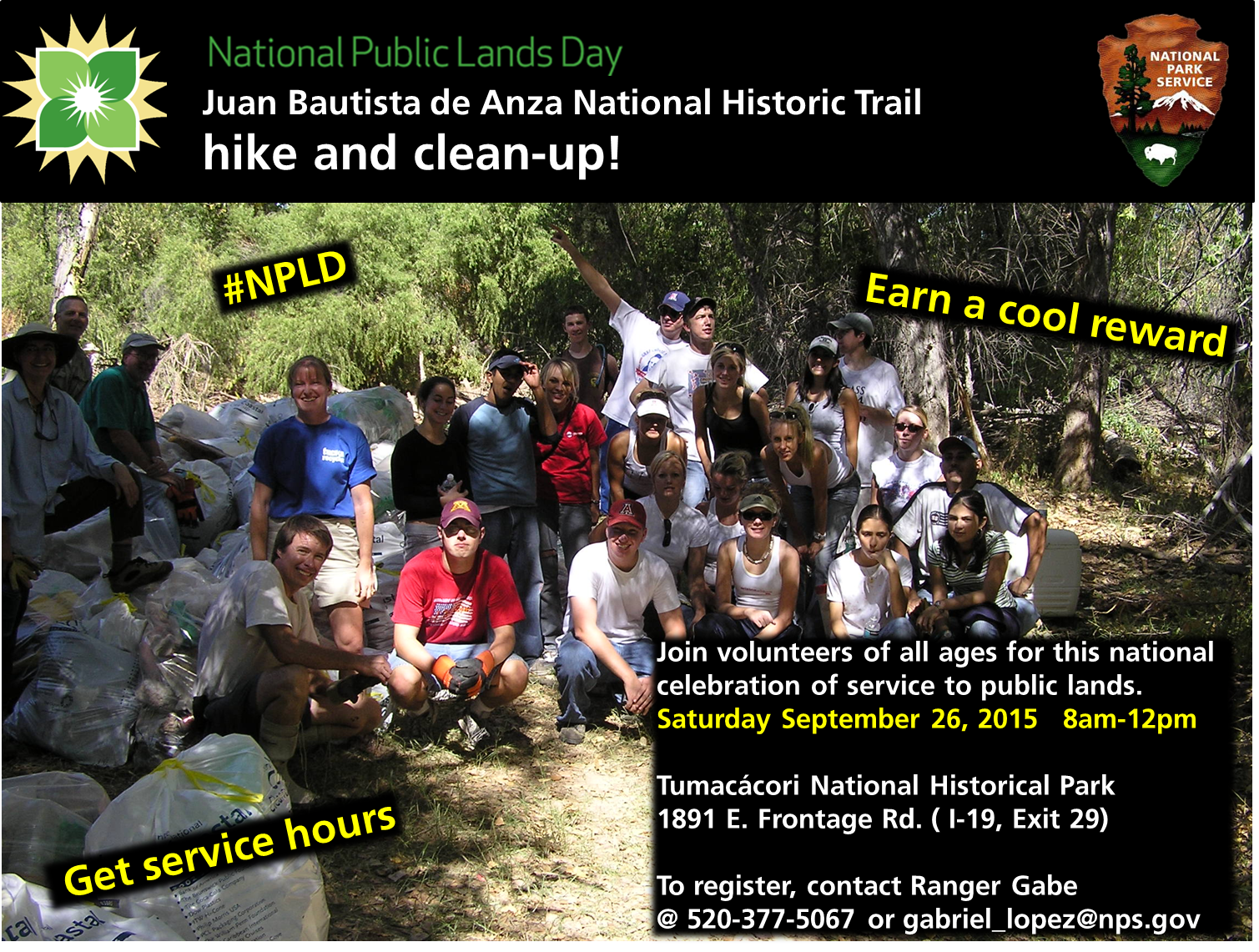 News Release Date:
September 9, 2015
Contact: Gabe Lopez, 520-377-5067
"Everyone mount up!" This became a familiar call from Spanish Lt. Col. Juan Bautista de Anza. In 1776, while American patriots fought for their independence from England, Anza led about 300 people over 1,600 miles to settle Alta California. It was the first overland route from New Spain (now Mexico) to colonize San Francisco. The route of this expedition is now a National Historic Trail which passes through the Santa Cruz Valley.
In honor of National Public Lands Day, join Tumacácori National Historical Park and volunteers of all ages for a hike and clean-up along the 1.5-mile portion of the Juan Bautista de Anza National Historic Trail within the national park. The event will take place onSaturday, September 26 from 8:00 a.m. to 12:00 p.m. Volunteers taking part will earn service hours and a special reusable Tumacácori water bottle. Admission will be free for anyone visiting the park on this day.

Participants are encouraged to bring plenty of water, snacks, and sun protection. For more information or to register to participate in the clean-up, contact Ranger Gabe at 520-377-5067 or e-mail us.
Tumacácori National Historical Park is located 45 miles south of Tucson and 15 miles north of Nogales. Take exit 29 off of I-19 and follow the signs. For information, call the Tumacácori visitor center at (520) 377-5060.
To learn more about the Juan Bautista de Anza National Historic Trail, visit nps.gov/juba. Visit nps.gov/tumato learn about Tumacácori National Historical Park.