Weather and Climate
Weather in the Pimería Alta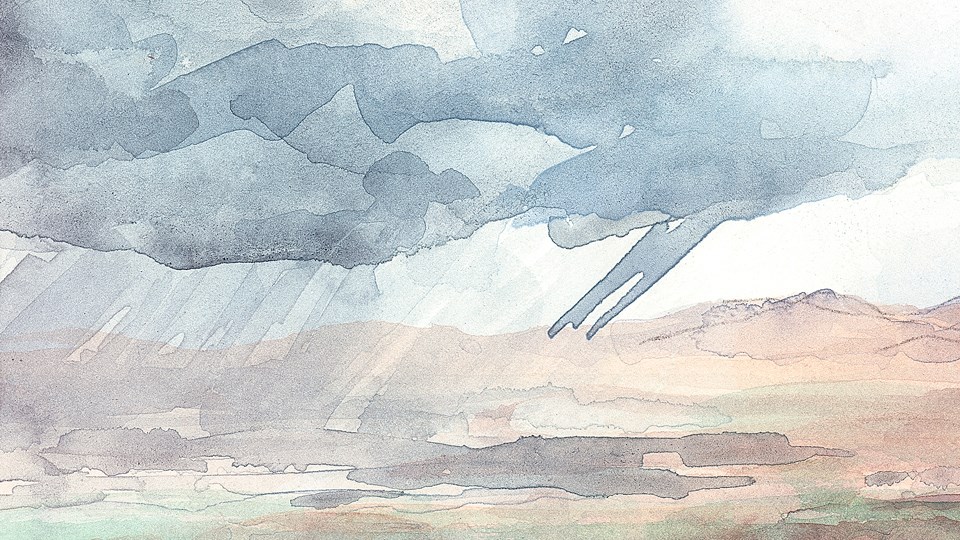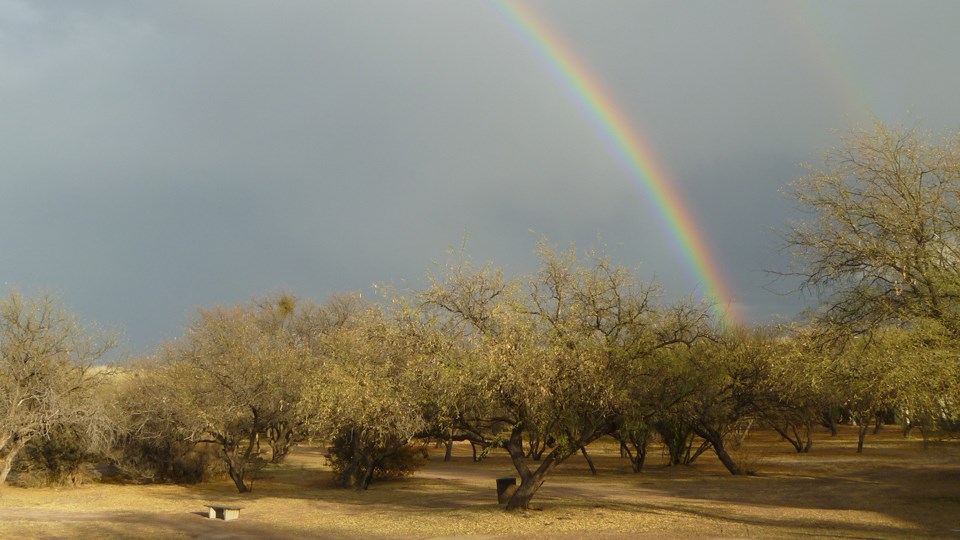 Left image
An artist's rendering of distant summer storm
Right image
A photograph of rain clouds and rainbow over Tumacácori
Summer Storm

Afternoon thunderstorms, locally referred to as "monsoons," commonly occur during the months of July and August.

Credit / Author:

Mike Koenig

Date created:

10/14/2020
How It Was
The Sonoran Desert, including Southern Arizona, has a climate with two distinct precipitation seasons. There are longer, low-intensity rains during the winter months (December/January) while the summer monsoons (typically July-September) feature violent pop-up thunderstorms that can drop torrential rains in a short span of time. These rainy seasons allow for a broad diversity of flora and fauna to exist in this otherwise semi-arid environment.

Tree ring data show that from roughly 1500 until the last decades of the 20th century southern Arizona was wetter than any other period in the last 1,200 years, with perhaps as much as 20% more precipitation than average. The wetter environment would have made subsistence farming much more viable for the native peoples of this region. Not only was the weather more favorable for farming and raising livestock, it also meant that the rivers, particularly the Santa Cruz River near Tumacácori, flowed year-round.
How It Is Now
Deserts, like the Sonoran Desert of the Pimería Alta, appear timeless. We still have winter rains and summer monsoons. Winter often brings snow to the mountain tops and frosts to the lower elevations. Spring brings the glorious blooms from cactus, trees, and wildflowers. Yet there are changes occurring to the weather and climate of southern Arizona.

Drought has plagued the Sonoran Desert for the last two decades with decreased winter and summer precipitation. Average annual temperature has increased 1.5 degrees F during the last 30 years. By mid-century, projections include up to 20 fewer nights below freezing and 20-60 more days per year with temperatures above 90 degrees F. A decrease in precipitation coupled with increased temperature would lead to dwindling water supplies, both in groundwater and in the flow (already seasonal at best) of rivers and streams. These conditions would also impact wildfires, with the season beginning earlier and lasting longer. As temperatures increase, vegetation will change, as will wildlife.
Last updated: July 23, 2020