Natural Features & Ecosystems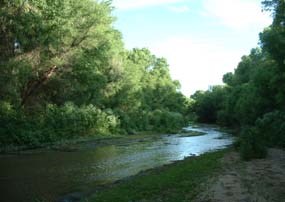 Cottonwood – Willow Riparian Environment
The Tumacácori Mission unit of Tumacácori NHP protects a mile of the Santa Cruz River and its rare southwest cottonwood-willow riparian (streamside) environment, one of the most endangered ecosystems in the United States. A "riparian" area is the lush corridor of water – loving plants growing along the banks of a river. These ecosystems are essential habitat for many plants, birds, and other animals which could not otherwise live in the surrounding desert and scrub environments.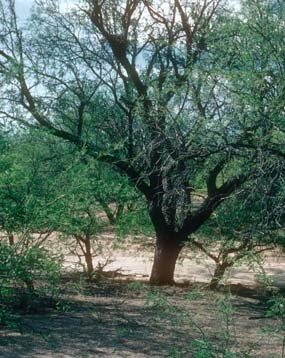 Mesquite Bosque Environment
Away from the riverside, the land in Tumacácori is covered with mesquite bosque (forest). Hackberry, ash, and Mexican elderberry mix with mesquite, acacia and palo verde trees near the riparian corridor.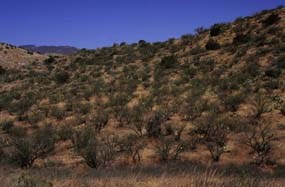 Mesquite Scrub
Farther from the river in the hills around Tumacácori, as well as at the Calabazas and Guevavi Mission units, the land is drier. The shade of the lowland mesquite bosque environment gives way to primarily mesquite and acacia, with the addition of cholla and barrel cacti.


Last updated: November 30, 2019