Mountains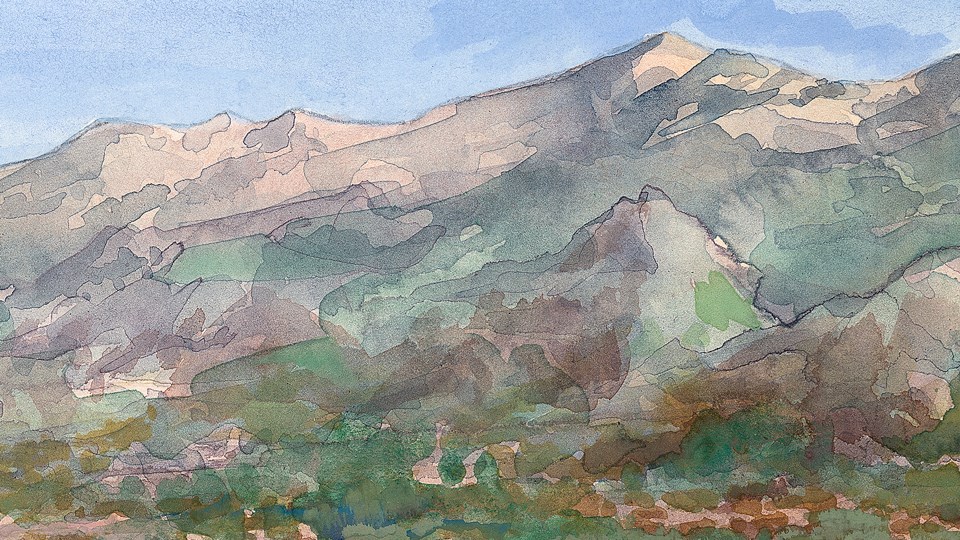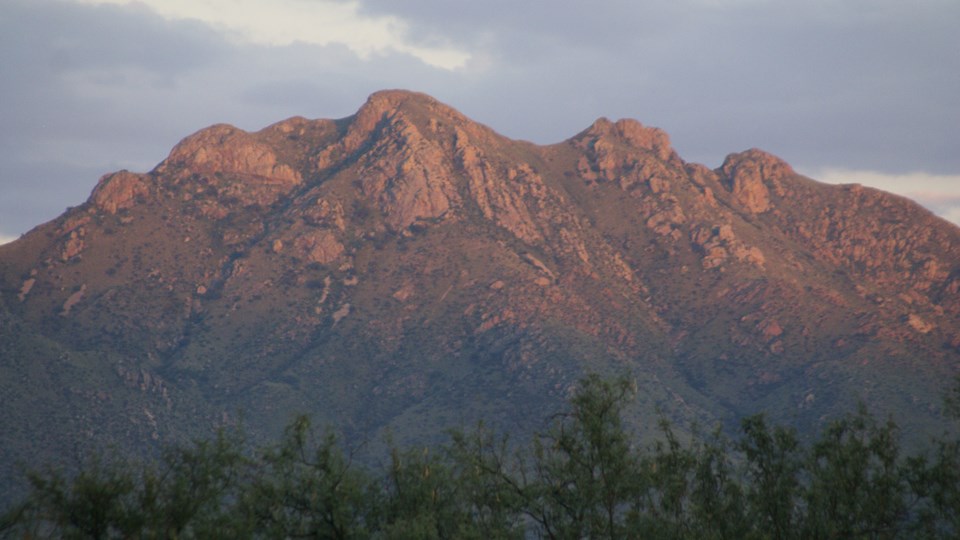 Left image
An artist's rendering of Santa Rita Mountains
Right image
Nearby Santa Rita Mountains
Leaves blowing in the wind

The tall sky islands of the Santa Ritas create habitat for creatures and trees like ponderosa pine, sycamores, and aspens.
How It Was
Geologic forces like volcanism, plate tectonics, and erosion shape the landscape. Because these processes work so very slowly, there are few opportunities in a human lifetime to see and experience large scale and immediate changes in the landscape. Did you know that 100- 60 million years ago tropical swamps covered south and central Arizona?

Approximately 50 - 60 million years ago, the earth's crust stretched and created north-south trending cracks or faults. Along these faults, mountains uplifted and valleys shifted and sank, creating the Basin and Range Province of the western and southwestern United States.

Located in southeastern Arizona, the Santa Rita Mountains rise 6,000 feet above the Santa Cruz valley. In the past, during a time of cooler and wetter climates, conifer forests grew from the mountain peaks down through the foothills. Piñon and juniper pine forests dominated the valley. As drier and hotter conditions gradually took hold after the end of the last glacial period, plant communities retreated up the rocky mountain slopes.
Hohokam people, and later O'odham, ventured into the mountains to gather pine nuts and hunt game. O'odham from the mission of San José de Tumacácori relied on the mountains to provide large timbers and limestone needed for the construction of a church and other structures.
How It Is Now
The Santa Rita Mountains are now dominated by oak woodland at their lowest elevations (near 5,000 feet). The rocky mountain slopes rise through pine-oak, mixed conifer, and spruce-fir habitats at the highest elevations. Cooler conditions in these "sky islands" support a variety of plant and animal species that could never survive in the surrounding desert. The Santa Rita Mountains provide excellent opportunities for hiking, picnicking, and wildlife viewing. Wildlife enthusiasts seek out rare species such as the elegant trogon or the always-elusive jaguar.

Notable peaks include:
Mount Wrightson - elevation 9,453 ft (2,881 m)
Mount Hopkins - elevation 8,550 ft (2,606 m)
Looking to the Santa Ritas from Tumacácori, you are likely to spot the bright white of the Fred Lawrence Whipple Observatory at the top of Mount Hopkins.
Last updated: July 23, 2020