Orchard
Orchard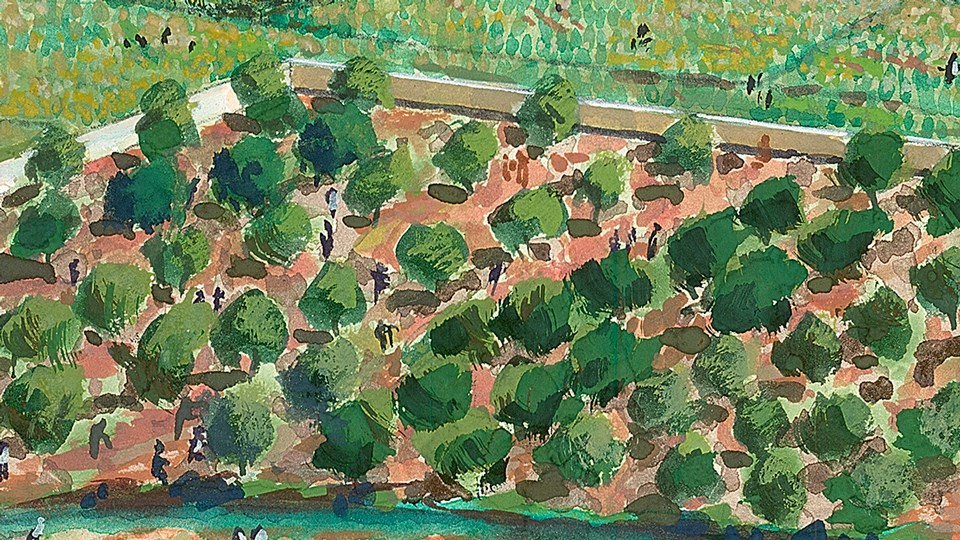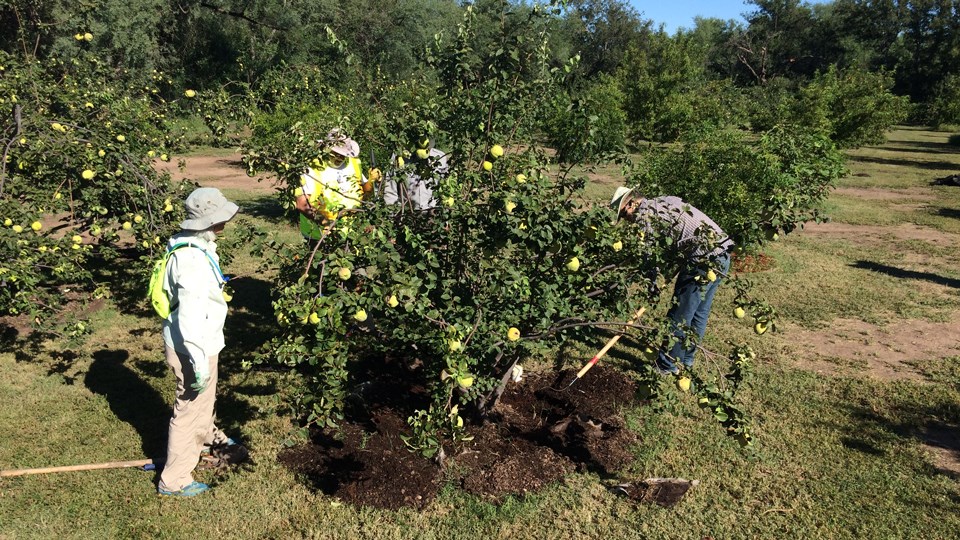 An artist's rendering of fruit trees in a walled orchard.
Tumacácori's heritage orchard
---
Eating an Apple

The simple pleasure of a crunchy, juicy piece of fruit.

Date created:

2020-10-14 00:00:00.0
How It Was
An integral part of the Spanish colonial system was the establishment of orchards and gardens. Missionaries introduced a multitude of old world crops to the frontline of Spanish settlements to supplement the already established and recognized food sources in the Pimería Alta. This introduction of European-style orchards and fields began shifting the agricultural practices of native peoples.

Between 1801 and 1828, a 4.6 acre orchard and garden was in use at San José de Tumacácori. Historical evidence such as missionary records and journals from '49ers on the way to California indicate that fruit trees, including peach, quince, pear, apple, pecan, walnut, fig, mulberry, and pomegranate, contributed to the sustenance of mission communities along with grape vineyards, grain fields, vegetable and pharmacy gardens, and livestock. In a written report to the Santa Rita Mining Company, engineer and prospector William Wrightson described a garden adjacent to the convento "enclosing about five acres, and surrounded by a cahone [adobe] wall. The acquia [sic] passes through this, and here is the remains of a washing vat and bathing place." (Islamic Paradise Garden, from Dickie, in MacDougall and Ettinghausen, ed., The Islamic Garden.)

By 1836, much of what was historically mission orchard grounds was cleared to make room for cotton fields. However, written accounts indicate that Georgia Boundey, the wife of the park's first custodian, George Boundey, was still collecting peaches from trees growing along the acequia as late as 1934.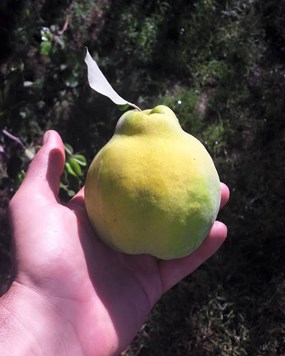 How It Is Now
The original nine acres set aside as Tumacácori National Monument did not include the orchard site; however, this area was part of an expansion in 2002, containing remnants of the orchard wall and acequia. In 2007, the park, University of Arizona, and Arizona-Sonora Desert Museum launched a collaborative effort called the Kino Heritage Fruit Trees Project. The objective of this project was to locate historical documents in Mexico and the United States to identify communities where fruit trees descended from the Spanish Mission System might still grow. The results identified 21 towns in Arizona and Sonora which fit the criteria. During visits to these towns eleven fruit cultivars were identified as being appropriate for the project. Seeds, cuttings and grafting material were then collected for propagation from the suitable trees.
Orchards Around the National Parks
Last updated: July 23, 2020