Acequia
Acequia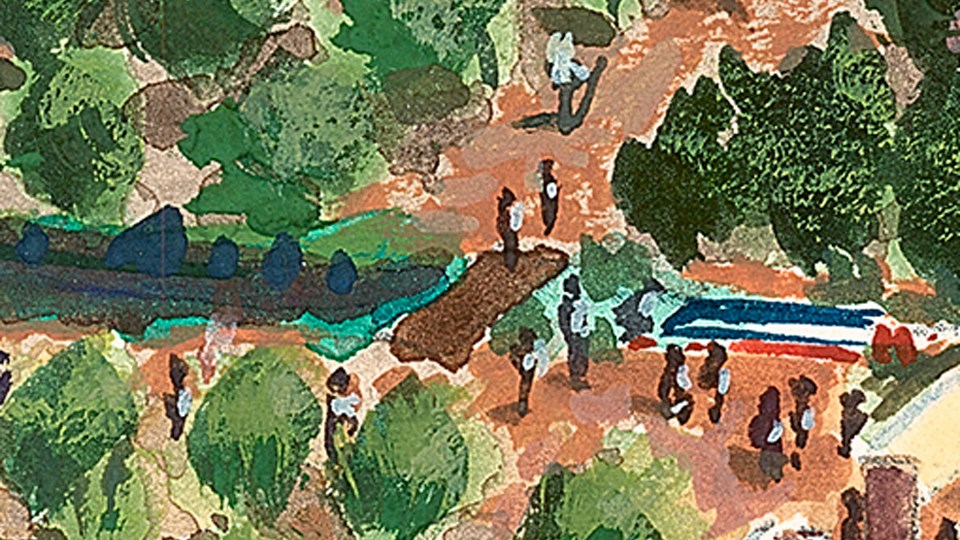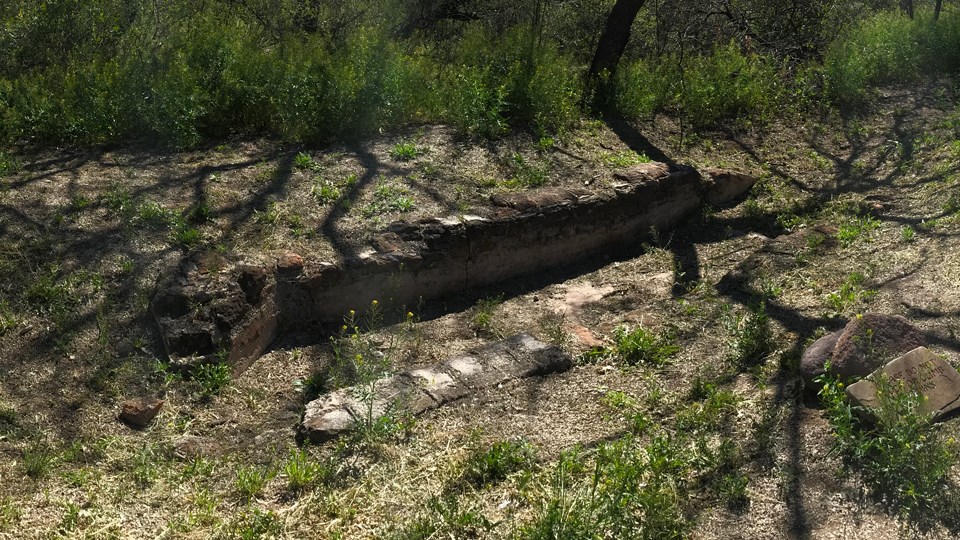 Left image
An artist's rendering of irrigation canal and compuerta
Right image
Tumacácori's remnant compuerta
Pouring Water

Features like the compuerta were likely used to pool water, fill jugs, and wash.
How It Was
"Acequia" [pronounced "ah-SAY-kee-uh"] means irrigation canal and, like many Spanish words beginning with the letter A, has its origins in Arabic. The acequia madre or "mother" of the irrigation canals is deceivingly simple-looking but was a vast project with ramifications in workload and social upheaval.

The irrigation canal was a 2.5-mile-long waterway, about 3 feet wide and 4 feet deep. The canal was not lined with concrete or limestone so required constant maintenance. The canal diverted water from the river upstream, then flowed northward by gravity. Branching off from the main canal were smaller channels that irrigated the lands between the acequia and the river. After feeding the fields and orchard, the water then reentered the river downstream. Tumacácori Mission sat about center of the acequia's sweeping arc.

Access to irrigation allowed the mission to produce enough food to also supply the presidios at Tubac and Tucson. However, the supply was not without its limits. In 1774, the mission farm was using so much water that the river further downstream was a mere trickle. Tubac's Spanish farmers complained, and the presidio Captain, Juan Bautista de Anza, was forced to begin a rationing program. The rationing allowed a week of irrigation for the mission alternating with a week for Tubac. As late as 1777, the policy was still in place.
How It Is Now
In the late 1850s, American miners in Tubac used the Tumacácori farm fields to provide grazing and crops for the large silver mining operations. As late as the 1930's the family of George Boundey, park custodian, used the acequia as their primary water source.

Today, remnants of the acequia are still visible. The most durable section is the compuerta or diversion box, which was built of fired adobe bricks and plastered with hydraulic lime plaster. The downstream end has a narrowed opening, useful for slowing the flow of water and building up a pool-like container behind. It had a polished, red surface; this decorative feature has led some to think that it may have served more purposes than just water diversion. It may have been a place to dip water for use in the village, or may even have served as a "lavandería," or washing place.
Irrigation Around the National Park System
Last updated: July 23, 2020