The Church
The Church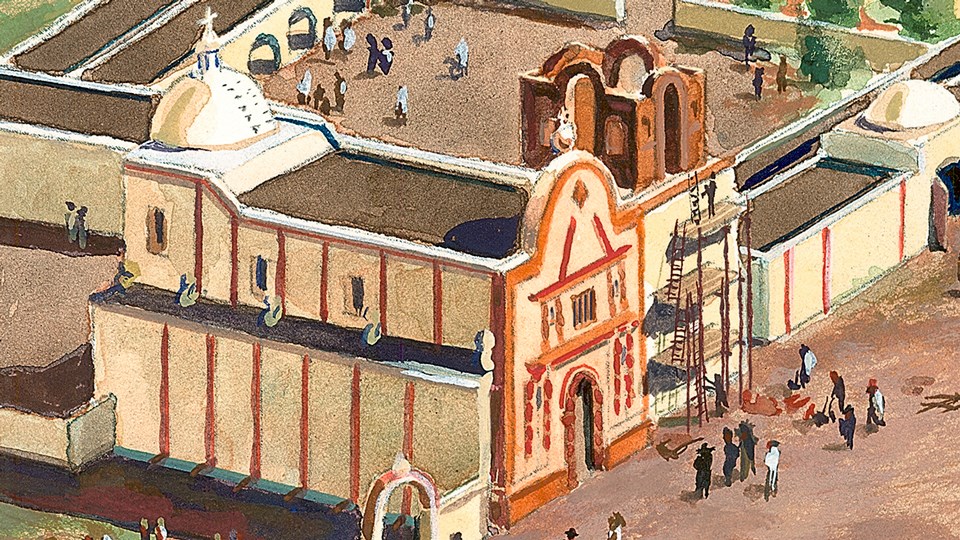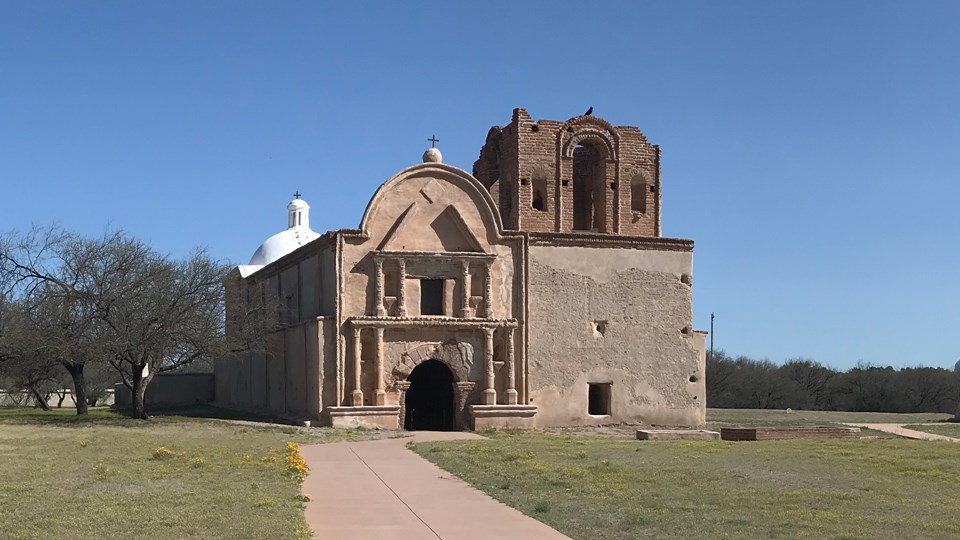 Left image
An artist's rendering of the mission church, still under construction.
Right image
Tumacácori's mission church
Church services

Mass was generally held in Latin, with readings and other sermons in a mixture of Spanish and native languages like O'odham.
How It Was
The present church at mission San José de Tumacácori was started around 1800 under the direction of Franciscan missionaries. They had determined that they needed a newer, bigger church than the one previously established by Jesuit missionaries to better serve the population. The walls were made from large sun-dried and fired adobe bricks. The foundation is laid in trenches and consists of rocks, rubble and mortar.

The church foundations were laid in the early 1800s, and in the early 1820s the church was dedicated for use. The original plans had called for a church that was crossed shaped, with a three-story bell tower and a barrel-vaulted roof. The plan for a vaulted roof was changed to a flat roof supported by beams that spanned the width of the church. On top of these, running the length of the church, were smaller boards, topped with a layer of dirt and plaster. Due to budgetary constraints and a change of plans along the way, the final structure consisted of a long nave, with a sanctuary opposite the main door.


How It Is Now
Historic preservation within the National Park Service practices the principles of stabilization rather than restoration. Exterior plaster, because it bears the brunt of weathering and erosion, tends to get the most frequent treatment. Nearly 14% of the original surface finish on the façade remains intact and the rest is repair work that has been done over the past many decades. Expert masons treat the repair plaster with a soft tan/peach-colored stain, a significant change from its original garish colors. Interior plaster is stabilized in place, but not restored or rebuilt. Original pigments survive under protected areas like overhangs and interior surfaces.

In the summer, the interior of the church, due to its thick walls, is much cooler than the outside temperature. The difference between the hot summer sun, and the cool, dim interior is a pleasant contrast.
Other Churches in the National Park System
Last updated: May 29, 2020