Preservation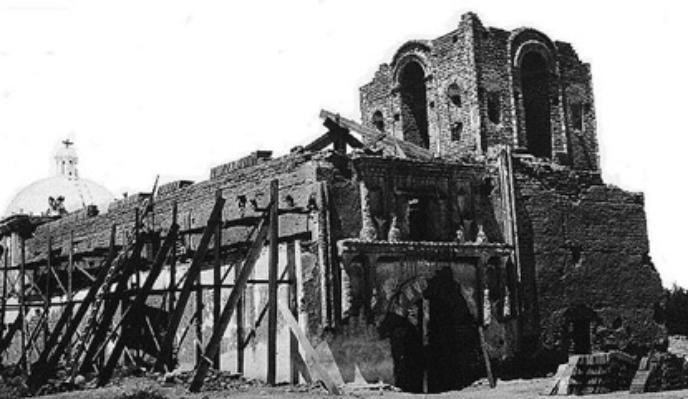 Preservation work at Tumacácori has been ocurring for decades, as has the evolution of preservation technique and philosophy.
It takes a tremendous amount of knowledge and skill to properly preserve the park's historic adobe structures. Each year, 2500 staff hours are spent in preparation for field work. This includes assessing the work that needs to be done, priortizing preservation projects, purchasing materials, planning logistics, and communicating with partners to clarify the goals of each preservation project. It is during this process that unforeseen problems are brought to the table and past experiences are reviewed to improve the quality of preservation work. Reports are completed after each project that will serve as future reference. Additional time is spent training new staff and outreach to local educational institutions.
Another 2500 staff hours are spent each year on "hands-on" work with adobe and plaster to maintain the structures at the park's mission sites of Tumacácori, Calabazas, and Guevavi. Materials used for preservation are the traditional types of materials that were originally used to build the missions. The appearance of each work site is documented before and after each project.
Some details:
The most typical size of an adobe, i.e. "a dried-mud brick" at Tumacácori's Franciscan church is 12x3x24 inches.
More than 90,000 adobes were used to build the present historic church.
Fired or cooked adobe bricks were used where strength was needed for support, such as in the bell tower.
Lime plaster was the traditional covering for adobe structures, consisting only of lime, from limestone, water, and sand.
It is estimated that over 20 million dollars have been spent on the missions' preservation since 1917.
Archeologist, and former Chief of Resources Management of Tumacácori NHP, Jeremy Moss takes us on an in-depth journey in his three-part article entitled, "Of Adobe, Lime, and Cement: The Preservation History of the San José de Tumacácori Mission Church."
For a very early perspective about preservation work at the park, read a booklet entitled "Mission San Jose de Tumacacori," now online, written by Tumacácori's first superintendent, Frank Pinkley.
Last updated: March 16, 2018