Mission Neighbors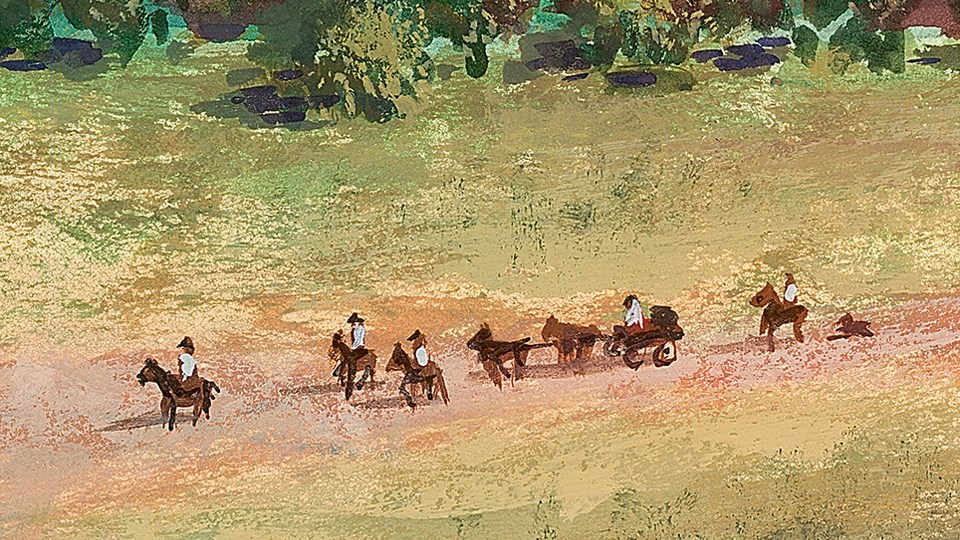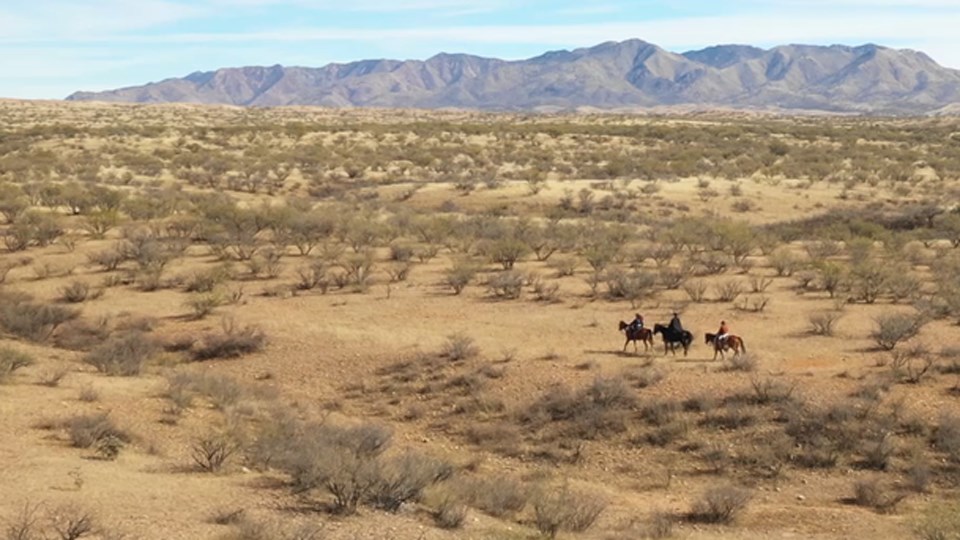 Left image
An artist's rendering of travelers from nearby missions and communities.
Right image
The modern landscape near Guevavi Mission.
Horse travel

There would have been frequent travel between Tumacácori and its neighboring communities of Tubac, Calabazas, Guevavi, and San Xavier.
How It Was
The Spanish colonial endeavor always approached missions as a system. They would be established in sequence with one another, connecting existing native communities known as rancherías.

The Spanish mission system was organized around missionary sectors. Each sector could have several rectorates which were, in turn, responsible for the cluster of missions. Nuestra Señora de los Dolores became the rectorate for the Kino missions and Padre Kappus was the first Superior. Each mission would consist of a cabecera, or resident headquarters, and visitas, or outlying ("visited") mission stations.

Tumacácori began its mission life as a visita, under the authority of its southern cabecera, Los Santos Ángeles de Guevavi. The early resident priests at Guevavi would have travelled to visitas and neighboring missions as distant as San Xavier and Suamca. Later the tables would turn and Tumacácori would be promoted to cabecera and its priest would minister to visitas at Calabazas and Guevavi.
How It Is Now
Amongst its three mission sites, Tumacácori National Historical Park is the only National Park Service unit displaying an entire, original institutionalized Spanish mission landscape including
a cabecera
a visita
a ranchería
a ganadera (a cattle ranch or livestock operation)

Mission Los Santos Ángeles de Guevavi is the only preserved earthen Jesuit cabecera in the United States. It has well-preserved associated cultural sites and features, which include an associated village site. The site of Guevavi is relatively undisturbed with few post-Jesuit mission period archeological resources present. Guevavi has remnants of the first mission church built in what is today Arizona. The church is the only known standing Jesuit earthen mission architecture found in the United States.

Mission San Cayetano de Calabazas includes the only known remaining standing Spanish colonial visita in the national park system. Calabazas preserves a history of diverse and extensive adaptive reuse including a mission period visita and ganadera, Mexican governor's residence, U.S. cavalry camp, customs house, and a post office.
Last updated: March 10, 2021