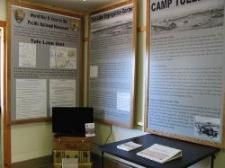 Hours
The Visitor Center is staffed Memorial Day-Labor Day seven days a week from 8:30 am - 5:00 pm.
During the rest of the year, the visitor center is unstaffed.
The visitor center is located at the Tulelake - Butte Valley Fairgrounds Museum located at 800 South Main Street, Tulelake, CA. The Fairgrounds Museum is open year round Monday through Friday, 9:30 am to 4:30 pm and provides exhibits and brochures about the Tule Lake Segregation Center and Camp Tulelake. We recommend calling the fairgrounds to confirm their hours before your visit at 530-667-5312.