Guided Tours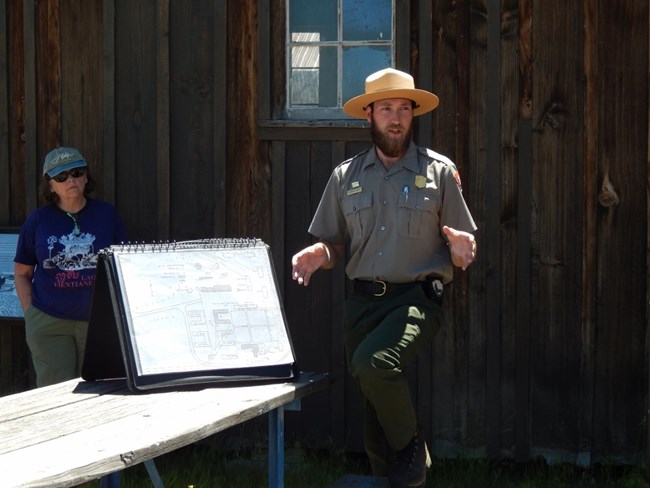 Ranger Guided Tours
The only way to access the sites of the Tule Lake National Monument is through ranger guided programs. During these tours, you will explore various areas of significance to learn about the history of the monument and the incarceration of Japanese Americans.
Ranger tours are offered between Memorial Day and Labor Day on Thursdays through Sundays. There is a limit to the number of people per tour, so please check out our calendar for availability and call 530-260-0537 to reserve your spot on any of the summer tours.
Large groups and/or groups wanting a tour other than Thursday through Sunday for the Segregation Center or Camp Tulelake must submit their request at least two weeks in advance.
School groups and similar organizations, can call ahead to request a special tour. These tours are designed around the curriculum needs and interests of the group. Please call the Education Coordinator, Angela Sutton at least four weeks in advance to request a tour, at 530-667-8119.
Tule Lake Segregation Center
Tours of the Tule Lake Segregation Center, which include stops at the jail and other areas of significance, begin at the Tule Lake National Monument Visitor Center at 10:00 AM and 1:00 PM and last approximately 2 hours.
Camp Tulelake
Tours of Camp Tulelake are currently on hold due to preservation efforts. The original Civilian Conservation Corps Camp buildings can be seen from the entrance gate of the camp.
Self Guided Tours
We also offer Self Guided Audio Tours through the NPS APP. It's like having a ranger by your side to guide your trip, giving you directions and things to see once you arrive.
Tulelake-Butte Valley Fairgrounds Museum
This tour begins at the Visitor Center located at 800 Main St. The museum is run by the Tulelake-Butte Valley Fairgrounds, so there is an entrance fee. The hour long audio tour guides you through the museum and it's many exhibits. For the full transcript of the audio tour, please follow this link.
Virtual Tours
Tule Lake National Monument offers extraordinary experiences, but it is not always possible to get to the monument in person. Fortunately we have ways to connect from a distance through digital media. We offer 360 panorama viewing experiences of the different sites here, including a tour of the jail prior to the restoration.
Last updated: July 14, 2022