History & Culture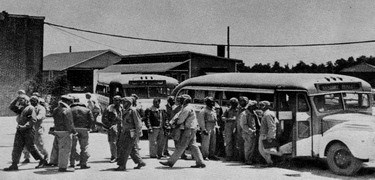 Who are the Tuskegee Airmen?
The Tuskegee Airmen (Airmen) sprang from an experiment conducted by the US Army Air Corps (Army Air Forces) to see if Negroes (primarily African-Americans) had the mental and physical capabilities to lead, fly military aircraft, and the courage to fight in war.
The Airmen were not limited to pilots, they included technicians, radio operators, supply personnel, medical personnel, parachute riggers, mechanics, bombardiers, navigators, meteorologists, control tower operators/dispatchers, cooks, and much, much, more. Included also were the Caucasian military personnel who oversaw base operations, as well as native-Americans, Caribbean islanders, Latinos, and people of mixed racial heritage.
Who were the women? The women of the Tuskegee Experience worked side-by-side with their male counterparts as mechanics, gate guards, control tower operators, did aircraft body work, secretaries, and clerks. There were three permanent female parachute riggers whose responsibility was to train the hundreds of cadets that filed through the program on the appropriate way to pack and maintain parachutes. Gertrude Anderson served as Assistant to G.L. Washington at Kennedy Field, where Tuskegee's Civilian Pilot Training Program was held. She assumed responsibility for continued operation of the airfield when Washington was transferred to Tuskegee Army Air Field.
Both men and women served proudly together, but not without challenges..One such challenge has been dubbed, The Freeman Field Mutiny. Click the link to learn more.
...
The Tuskegee Airmen shared an experience unique to its time. The experiences of these pioneers opened doors that led to corridors of opportunities for others to enter, eventually leading to the Presidency of the United States.
Click here to learn why this "Tuskegee Experience" has significance for us today.
To learn even more about Tuskegee Airmen History and Culture visit...


Last updated: February 25, 2016