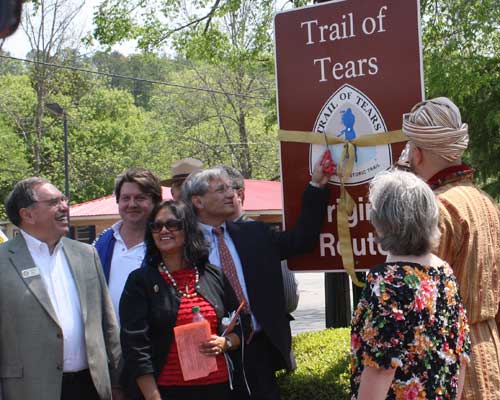 News Release Date:
May 6, 2011
Contact: Carol S. Clark, 505-988-6842
Unveiling ceremonies were held on April 12, 2011, for the first set of exhibits to tell the story of Cherokee removal camps along the Trail of Tears. During the summer of 1838, hundreds of Cherokee in northwest Georgia were forced from their homes and taken to the Cedar Town removal camp. There they waited to be moved to camps in Tennessee, and then to begin their walk to Indian Territory in present-day Oklahoma. It was just the beginning of the ordeal that the Cherokee would endure on the Trail of Tears.
"This is the first installation of exhibits and signage related to Cherokee removal camps," said Trail of Tears National Historic Trail Superintendent Aaron Mahr. "Much of the public's understanding of the Trail of Tears is the actual walk from a point in the Southeast to Oklahoma. These exhibits and signs commemorate the early parts of their trials, from the moment that Cherokee families were forcefully removed from their homes."
The exhibits stand in a city park in Cedartown, Georgia - the location where the Cherokee were held at Cedar Town Camp. They commemorate three weeks of internment in May 1838 under conditions that left many of the Cherokee very ill or dead.
Less than a month later the Cherokee marched to New Echota, Georgia, then to a series of deportation camps in Tennessee, where they were organized into detachments for the walk west.
During the event, most attendees drove along a trail segment containing new Trail of Tears National Historic Trail Original Route signage (see photo). The signs were unveiled at Cave Spring, near the location where a Cherokee cabin was recently rediscovered during a building renovation.
Cherokee officials, including Chief Chad Smith and members of the Cherokee Supreme Court; local officials; Trail of Tears Association members; and more than one hundred others attended the ceremonies. The exhibits were made possible through the National Park Service's partnership with the Trail of Tears Association and its local members of the Georgia Chapter of the association, as well as the City of Cedartown and Polk County, Georgia.
For more, please visit: www.nps.gov/trte/historyculture/trte_exhibits_removal.htm