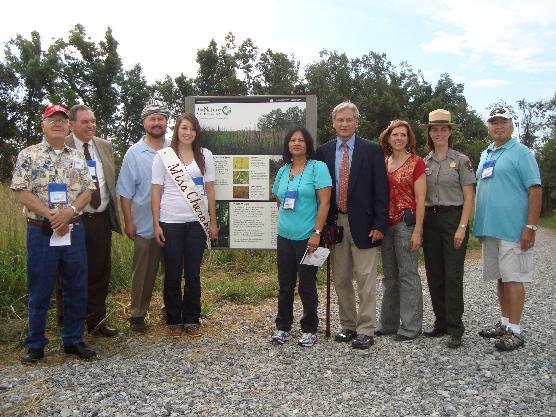 News Release Date:
National Trails Intermountain Region staff representing the Trail of Tears National Historic Trail worked with partners to create a Trail of Tears retracement hiking trail, signage and exhibits, which were unveiled on September 22, 2010. Representatives from the Cherokee Nation, The Nature Conservancy, the Trail of Tears Association, the National Park Service, and the public came together in western Kentucky and southern Illinois to remember the forced removal of Cherokee men, women, and children during the harsh winter of 1838 - 1839.
Featured guests and speakers at the events included Principal Chief of the Cherokee Nation Chad Smith and the First Lady Bobbie Gail, Deputy Chief Joe Grayson, Jr., Cherokee Nation Supreme Court Judge Troy Wayne Poteete, Trail of Tears Association President and Tribal Council Member Jack Baker, a representative from the Kentucky governor's office and the local congressman's office, a state representative, Department of Transportation officials, and other local officials.
At Mantle Rock Preserve in Livingston County, Kentucky, The Nature Conservancy unveiled its new retracement hiking trail as well as the new wayside exhibits. Both of these were completed in partnership with the National Park Service. Visitors can walk more than a mile of the same historic road that the Cherokee walked and camped along in 1838. Over 10,000 Cherokee came through this area during the winter, when frozen rivers and extreme cold trapped many of the Cherokee in the Mantle Rock vicinity. The exhibits feature original watercolor paintings by National Trails Intermountain Region Interpretive Specialist Cookie Ballou, that visually tell the story of removal. Several of the exhibits also feature the natural wonders of prairie, woodland, and glade protected at Mantle Rock Preserve.
In Pope County, Illinois, officials and members of the public celebrated a sign unveiling event that will help the public to visit original route segments of the Trail of Tears. Although many of the original roads along the 800-mile route of the Trail of Tears have disappeared, there are places along the historic route like the 8.5 miles of historic road in Pope County that have survived, allowing visitors to retrace and remember this tragic event in our nation's history. The Pope County project is a prototype for ongoing efforts across the entire length of the trail to sign the roads that are the surviving original route of the Trail of Tears.
Principal Chief Smith, interviewed by media at the Pope County unveiling, remarked that the new signs and exhibits play a major role in increasing awareness of the Trail of Tears experience. He stated that "What this monument does is not only reflect that there were a people here, but that they were a real people, and they are being remembered."