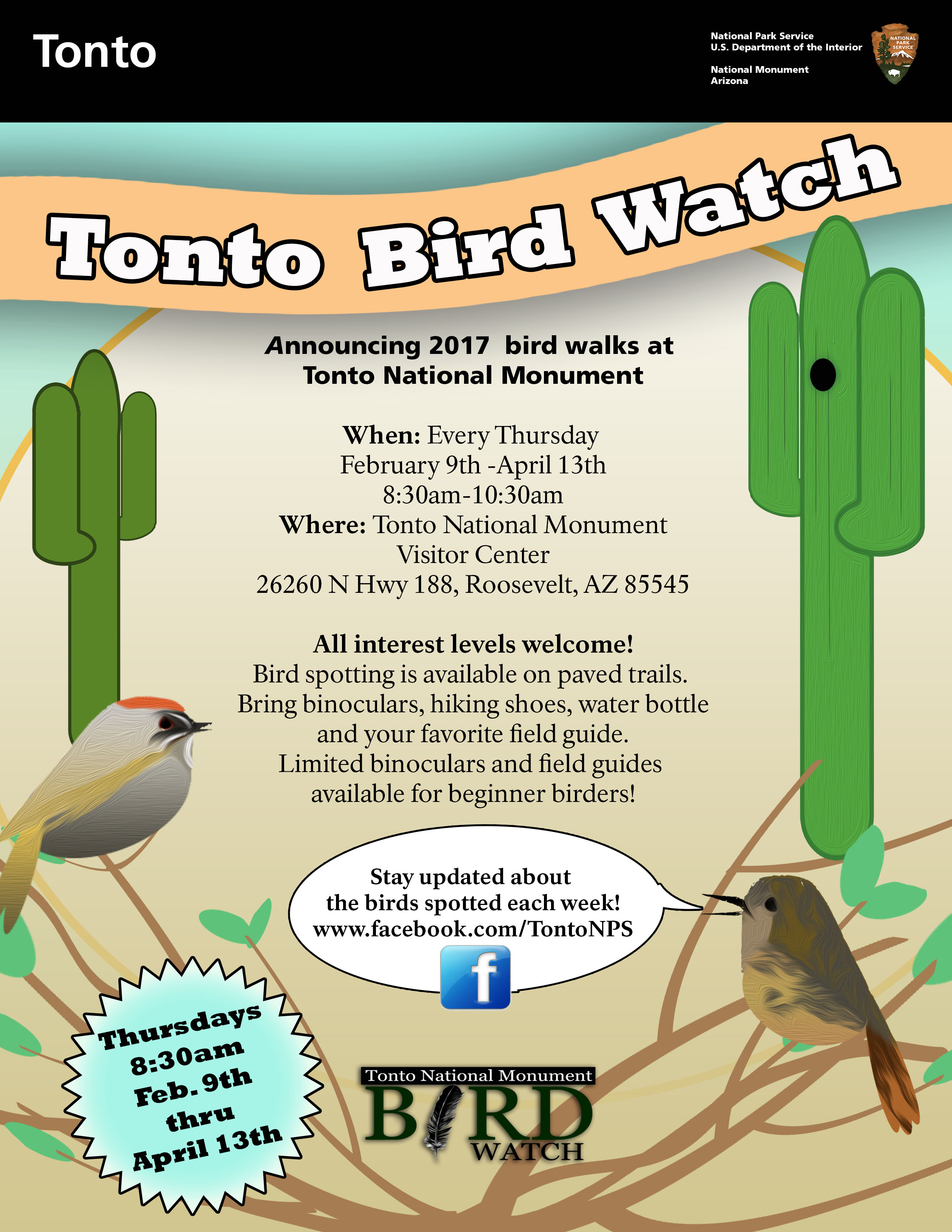 News Release Date:
January 27, 2017
Contact: Hilary Clark, (928) 467-2241
Roosevelt, AZ
 - Learn about the wide variety of birds at Tonto National Monument, such as Cactus Wrens, Gila Woodpeckers, Gambel's Quail, and more on ranger-led walks.
From February 9 through April 13, ranger-led bird walks will start Thursday mornings from 8:30 a.m. to 10:30 a.m., and leave from the Tonto National Monument Visitor Center. Park admission is $5 per person unless visitors have an Interagency Annual, Military, Senior, 4th Grader, or Access Pass. There is no additional cost to attend the bird walks and reservations are not required. Visitors will also have the opportunity to explore the Lower Cliff Dwelling following the bird walk. 
Bring dependable hiking shoes, binoculars, a water bottle, and your favorite field guides. All experience levels are welcome to attend. Novice birders can use limited binoculars and field guides supplied by the National Park Service for the duration of the walk. Bird species spotted by visitors will be recorded and featured on Tonto National Monument social Media. 
Tonto National Monument protects two cliff dwellings built by the Salado people over 700 years ago. Established as a national monument in 1907 by President Teddy Roosevelt, the cliff dwellings were part of the early archaeological preservation movement in America. The Monument is open daily from 8 a.m. to 5 p.m. except for December 25. Directions and additional information are available on the
Monument's website
, or you may call (928) 467-2241. 
No camping is available at Tonto National Monument. The nearest camping is available at Windy Hill Campground in Tonto National Forest. For more information on camping, visit
https://www.fs.usda.gov/tonto/ 
For more information contact:
(928) 467-2241 and tont_information@nps.gov
or visit:
https://www.nps.gov/tont
https://www.facebook.com/TontoNPS
https://www.instagram.com/TontoNPS
https://twitter.com/tonto_nps