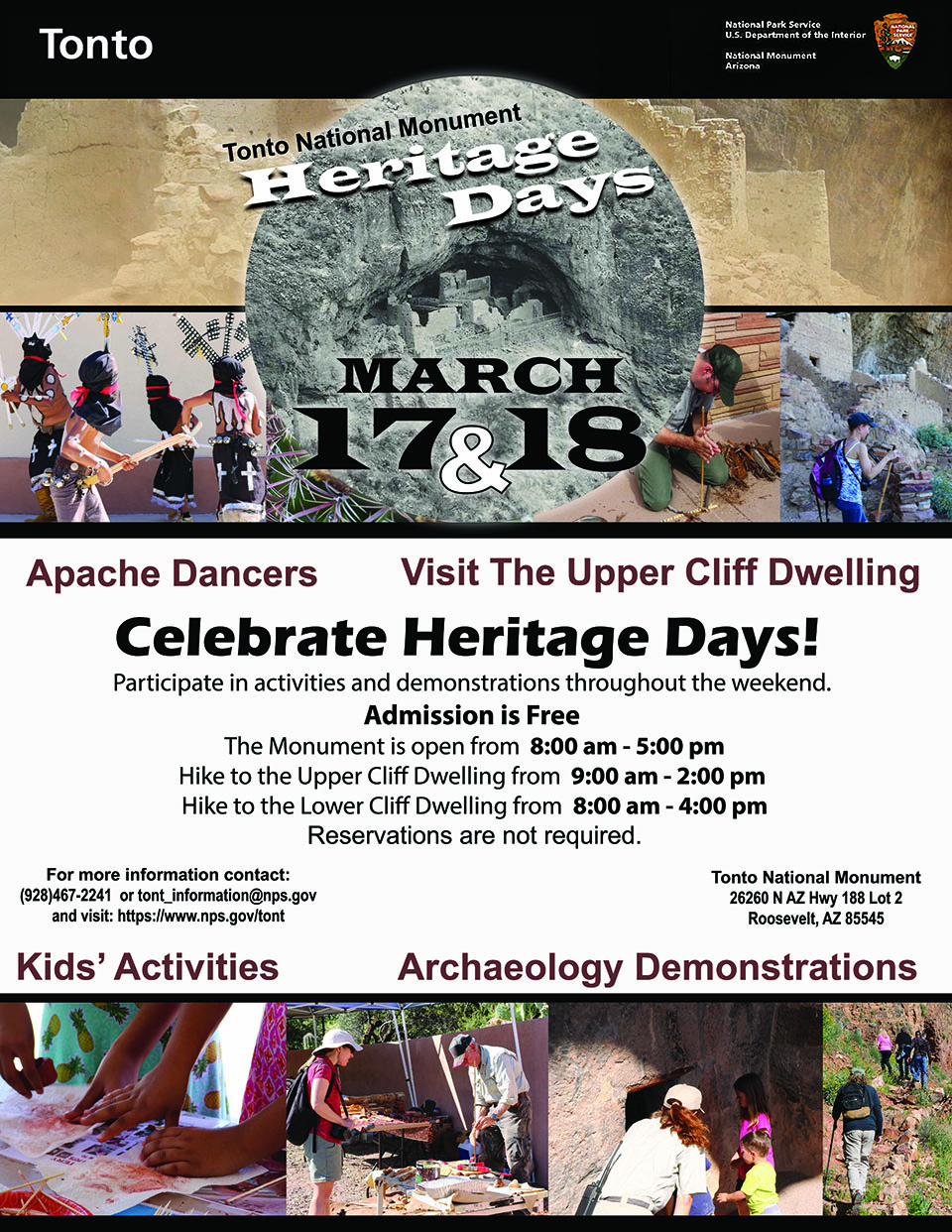 News Release Date:
February 16, 2018
Contact: Eric Schreiner, 928-467-2241
Roosevelt, AZ- Celebrate Heritage Days with Tonto National Monument in recognition of Arizona Archaeology and Heritage Awareness Month on March 17 and 18 from 8:00 a.m. - 5:00 p.m. The weekend's activities will include prehistoric technology demonstrations, Apache dancers, kids' activities, and respresentatives from Archaeology Southwest, Tucson Audubon, and more! This event is free and open to the public.
The Lower Cliff Dwelling will be open for self-guided hikes from 8:00 a.m. - 4:00 p.m. with rangers avaliable to answer questions. The Upper Cliff Dwelling, which normally requires a reservation, is open for self-guided hikes from 9:00 a.m. - 2:00 p.m. Please plan to bring sturdy shoes, sunscreen, water, and snacks. Parking will be limited, especially for RVs and over-sized vehicles, so we encourage carpooling.
Tonto National Monument protects two cliff dwellings built by the Salado people over 700 years ago. Established as a national monument in 1907 by President Teddy Roosevelt, the cliff dwellings were part of the early archaeological preservation movement in America. The Monument is open daily from 8:00 a.m. to 5:00 p.m. except for December 25.
No camping is avaliable at Tonto National Monument. The nearest camping is avaliable at Windy Hill Campground in Tonto National Forest. For more infrormation on camping visit
http://www.fs.usda.gov/tont/
For more information contact:
(928) 467-2241 and tont_information@nps.gov or visit:
https://www.facebook.com/TontoNPS
https://www.instagram.com/TontoNPS
https://twitter.com/tonto_nps