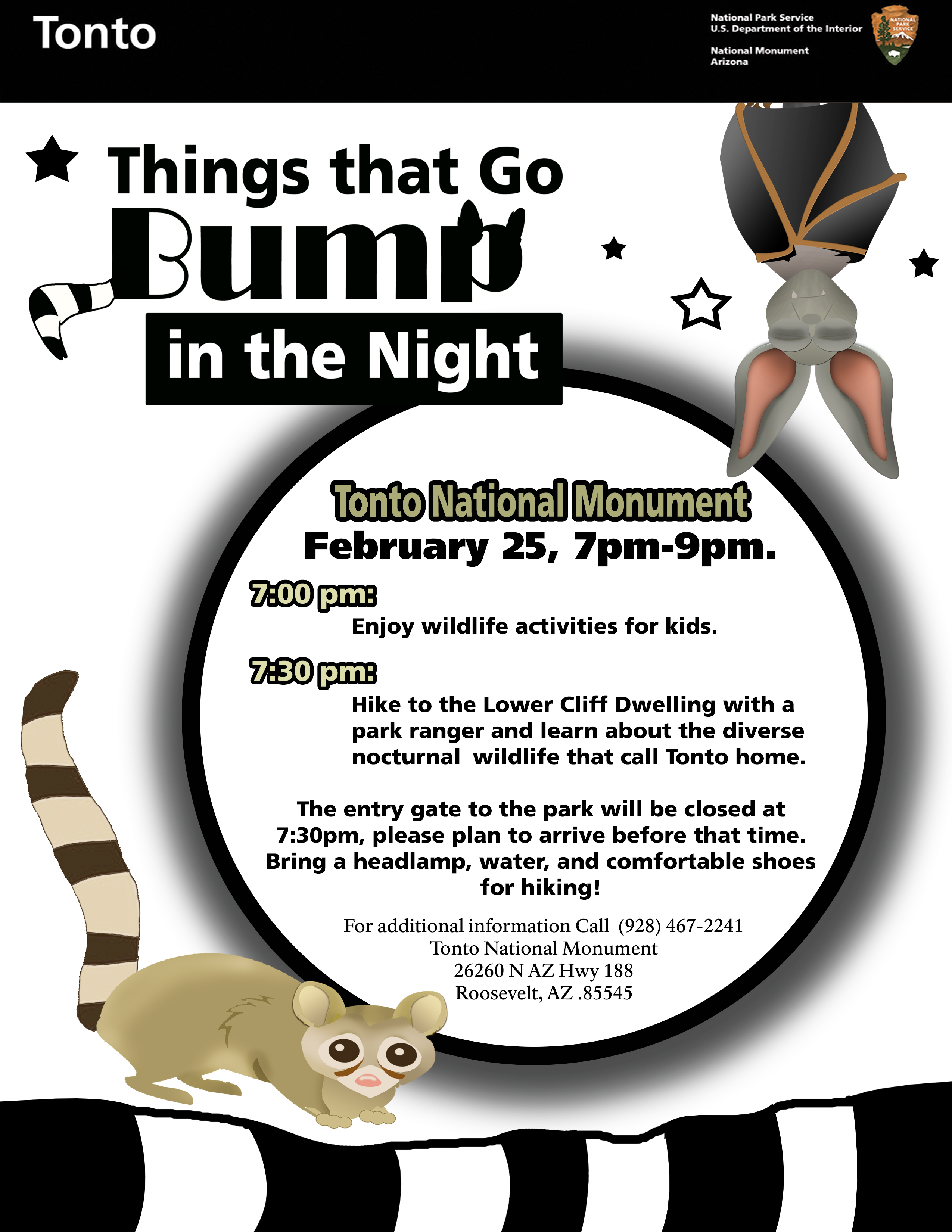 News Release Date:
February 15, 2017
Contact: Tonto National Monument Visitor Center, (928) 467-2241
Contact: Hilary Clark, (928) 467-2241
Roosevelt, AZ
- Tonto National Monument provides invaluable habitat for a variety of wildlife and a number of nocturnal creatures. Hike to the Lower Cliff Dwelling with a park ranger and learn about the diverse nocturnal wildlife that call Tonto home. This event is free and open to the public. Activities for kids will be offered at 7:00 pm and the hike to the Lower Cliff Dwelling will begin at 7:30 pm. The entry gate to the park will be closed at 7:30 pm, so please plan to arrive before that time. Bring a headlamp, water, and comfortable shoes for hiking. 
Tonto National Monument protects two cliff dwellings built by the Salado people over 700 years ago. Established as a national monument in 1907 by President Teddy Roosevelt, the cliff dwellings were part of the early archaeological preservation movement in America. The Monument is open daily from 8 a.m. to 5 p.m. except for December 25. Directions and additional information are available on the
Monument's website
, or you may call (928) 467-2241.
No camping is available at Tonto National Monument. The nearest camping is available at Windy Hill Campground in Tonto National Forest. For more information on camping visit
https://www.fs.usda.gov/tonto/
For more information contact:
(928) 467-2241 and tont_information@nps.gov
or visit:
https://www.nps.gov/tont
https://www.facebook.com/TontoNPS
https://www.instagram.com/TontoNPS
https://twitter.com/tonto_nps