News Release
Park After Dark 2019-2020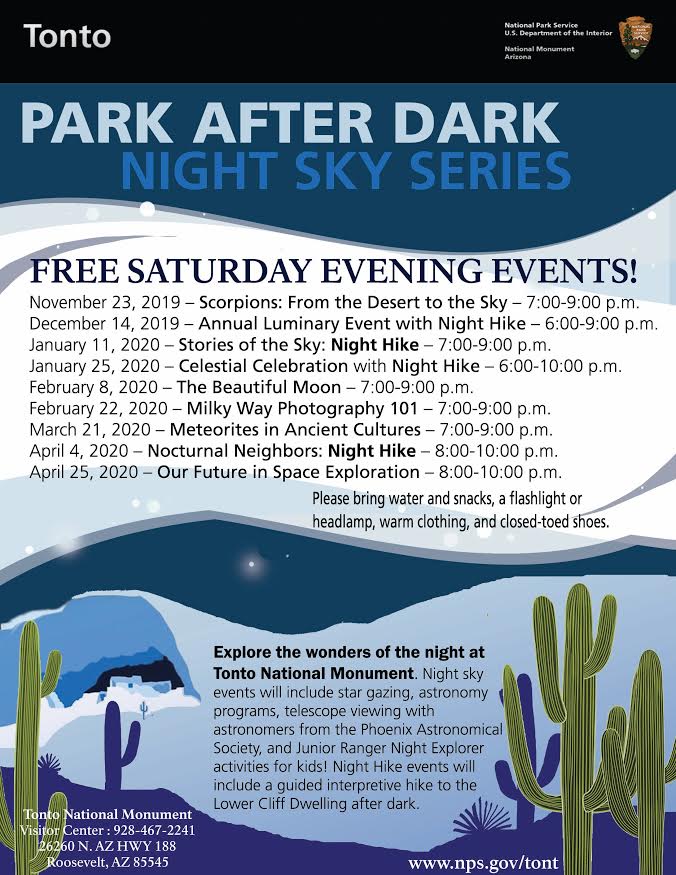 News Release Date:
November 1, 2019
Contact: Eric Schreiner, (928)467-2241 x400
Roosevelt, AZ – Explore the wonders of the night with Tonto National Monument at the "Park After Dark" 2019-2020 event series.

Night sky events will take place at the park amphitheater and will include stargazing, interpretive astronomy programs, children's activities, and more. No access to the Lower Cliff Dwelling will be offered during these programs.

Night hike events will include a guided interpretive hike to the Lower Cliff Dwelling after dark. Please meet at the Visitor Center parking lot.

Bring water and snacks, a flashlight or headlamp (preferably with a red light or red gel filter for better night sky observation), warm clothing, and closed-toed shoes. These events are free and open to the public.

"Park After Dark" Event Schedule

Saturday, November 23, 2019 – Scorpions: From the Desert to the Sky – 7:00-9:00 p.m.
Did you know that the Sonoran Desert is home for more than a dozen different species of scorpion? Learn about these arachnids and the legend of Scorpio, followed by a scorpion hunt and activity. Join astronomers from the Phoenix Astronomical Society and park rangers after the program for telescope viewing and constellation tours.
Saturday, December 14, 2019 – Annual Luminary Event– 6:00-9:00 p.m.
Celebrate the festive season at the 4th Annual Luminary Event. Hike the Lower Cliff Dwelling Trail with glimmering luminaries to light your way. The trail will close to uphill hiking at
8:00 p.m.
Saturday, January 11, 2020 – Stories of the Sky: Night Hike – 7:00-9:00 p.m.
Interested in decoding the histories and legends hidden in the night sky? Learn how to spot constellations and retell their stories on a hike to the Lower Cliff Dwelling with a park ranger.

Saturday, January 25, 2020 – Celestial Celebration – 6:00-10:00 p.m.
Join Tonto National Monument in celebrating its designation as an International Dark Sky Park with the International Dark-Sky Association. Visit with astronomers, learn about nocturnal wildlife, hike to the Lower Cliff Dwelling by flashlight, and earn your Night Explorer Junior Ranger patch. Participate in the Astronomy Scavenger Hunt and earn a prize!
Saturday, February 8, 2020 – The Beautiful Moon – 7:00-9:00 p.m.
The moon may seem commonplace because we see it so often, but it is cloaked in mystery. Does the moon really turn blue? Why are the sun and the moon the same size in the sky? Where did the moon come from? Join Dr. Larry Behers, an astronomer with Project Astro, and uncover some of the moon's many secrets.

Saturday, February 22, 2020 – Milky Way Photography 101 – 7:00-9:00 p.m.
Join Bettymaya Foott of the International Dark-Sky Association for a night sky photography workshop. No previous experience is necessary, other than a basic understanding of the settings on your camera menus. Get to know introductory techniques for wide-field astrophotography with a DSLR or mirrorless camera. Learn camera settings, composition tips, shooting basics, basic post-processing flow, and night sky photography best practices. Gear needed: DSLR or mirrorless camera with live view and a sturdy tripod. Optional but helpful gear: Intervalometer and a fast, wide-angle lens (f/2.8 or less and 50 mm or wider).
Saturday, March 21, 2020 – The Use of Meteorites in Ancient Native American Cultures – 7:00-9:00 p.m.
The occurrence of meteorites at archaeological sites in North America has been known since the early 19th century. Meteorites have been found at Hopewell Culture sites in Ohio and Illinois, in Mesa Verde National Park, in the Winona Ruins near Flagstaff and at four Sinagua sites of Central Arizona, to name a few. Archaeoastronomer Ken Zoll will review these findings and present new conclusions on how the meteorites arrived at the Sinagua sites.

Saturday, April 4, 2020 – Nocturnal Neighbors: Night Hike – 8:00-10:00 p.m.
Tonto National Monument provides invaluable habitat for a variety of wildlife and a number of nocturnal creatures. Hike to the Lower Cliff Dwelling with a park ranger and learn about the diverse nocturnal wildlife that call Tonto home.

Saturday, April 25, 2020 – Our Future in Space Exploration – 8:00-10:00 p.m.
How have space missions changed our society? Take a look at how the Salado culture adapted to a new environment, and discuss how our own culture may evolve as we colonize the new space frontier with a park ranger. Join astronomers from the Phoenix Astronomical Society and park rangers after the program for telescope viewing and constellation tours.

No camping is available at Tonto National Monument. The nearest camping is available at Windy Hill Campground in Tonto National Forest. For more information on camping visit http://www.fs.usda.gov/tonto/

For more information contact:

(928)467-2241 and e-mail us or visit:
https://www.nps.gov/tont
https://www.facebook.com/TontoNPS
https://www.instagram.com/TontoNPS|

                                                                                                                                                            
--NPS--
Last updated: December 15, 2019