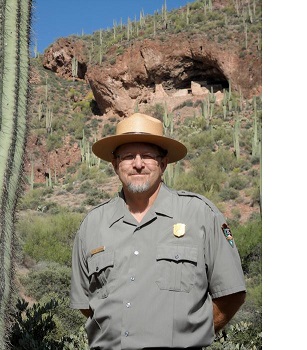 News Release Date:
May 16, 2014
Contact: Patricia Turley , 303-969-2701
Duane Hubbard, a 14-year federal employee, has been named Superintendent of Tonto National Monument in Central Arizona, according to Intermountain Regional Director Sue Masica. He will assume his new duties on May 18, 2014. Hubbard currently serves as an archaeologist and cultural resource specialist for the Southern Arizona Office in Phoenix, a position he has held since 2010.
"Duane is a skilled professional who brings a broad range of expertise in all aspects of field operations and park administration and I am confident he will excel in managing the resources at Tonto National Monument," said Regional Director Masica.
Hubbard left the Northern Arizona University Anthropology Department as a research specialist and joined the federal government in 2000 as a park archaeologist and chief of cultural resources at Salinas Pueblo Missions National Monument in Mountainair in New Mexico. From 2003 to 2010, he worked for Tonto National Monument as an exhibit specialist, park archeologist, and chief of resources. Hubbard graduated from Northern Arizona University with a Bachelor's degree in geography in 1994 and a Master's degree in anthropology/archaeology in 2000. He also served as a board member on the Arizona Archaeological Council, Arizona's representative on the Intermountain Region's Resource Stewardship Advisory Team, regional cultural resources representative on the National Cultural Resources Advisory Group, and has worked closely with the Arizona State Historic Preservation Office on the Arizona Governors Archaeology Advisory Commission.
"I am honored to work with the staff, visitors and park partners at Tonto National Monument," said Hubbard. "As an archaeologist by training, I'm privileged to manage some of the best preserved cliff dwellings in the United States."
Hubbard and his wife of 20 years, Sarah, have enjoyed living throughout Arizona and the Southwest since they met at Northern Arizona University. They have a daughter (Ellie) and son (Will), who share their love for the outdoors and the many recreational opportunities that Central Arizona provides.