Woodbury Fire Timeline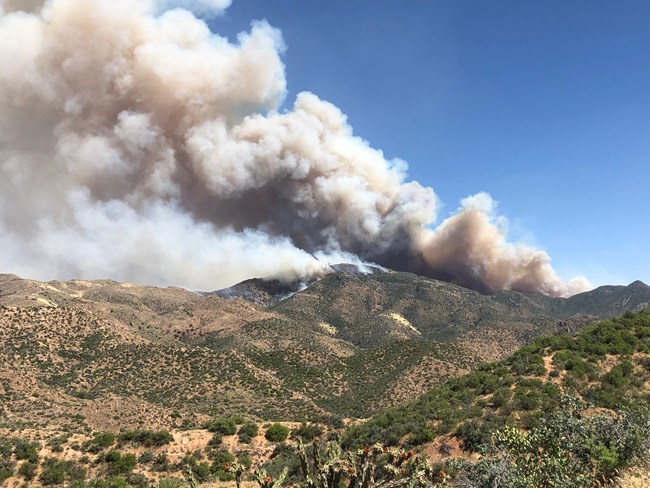 June 8, 2019-An unknown source started the human-caused Woodbury Fire near the Woodbury Trailhead within the Tonto National Forest.
June 14, 2019-The Woodbury Fire headed north and doubled in size, totaling 25,716 acres.
June 15, 2019-The fire reached pockets of thicker brush, which produced increased amounts of smoke. The Monument decided to close the Lower Cliff Dwelling Trail for visitor and staff safety due to poor air quality and falling ash. Additionally, Tonto National Monument was added into the delegation of authority, allowing Woodbury Fire officials the opportunity to assist on Monument land.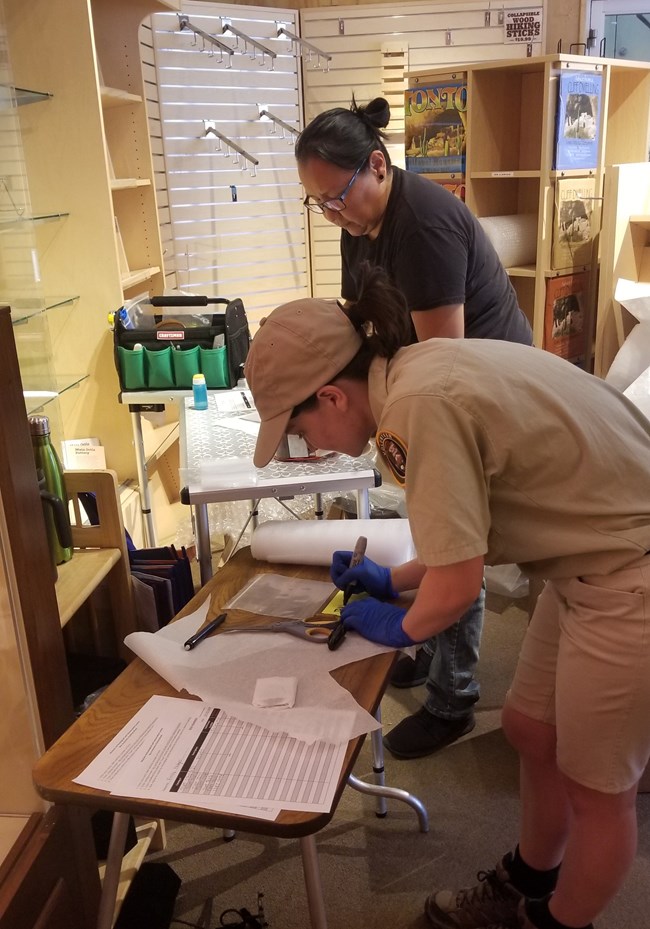 June 19, 2019-Artifacts were carefully removed from the Visitor Center museum and packed for temporary storage at the Western Archeological Conservation Center (WACC) in Tucson. Archives and other important equipment was relocated offsite. National Park Service archeologists and firefighters covered the Upper Cliff Dwelling with fire retardant wrapping to protect the original 700-year-old wood within. This specialized wrapping protects the contents from heat and burning embers.

June 20, 2019-The Woodbury Fire traveled another five miles towards Roosevelt Lake, reaching a total of 65,893 acres. This fire behavior prompted the evacuation of Roosevelt, including park employees, and the closure of Highway 188. Protection efforts continued with NPS archeologists and firefighters wrapping the Lower Cliff Dwelling with the same fire resistant material as the Upper Cliff Dwelling. Firefighters lined the perimeter of the Visitor Center and other structures with hoses and sprinklers.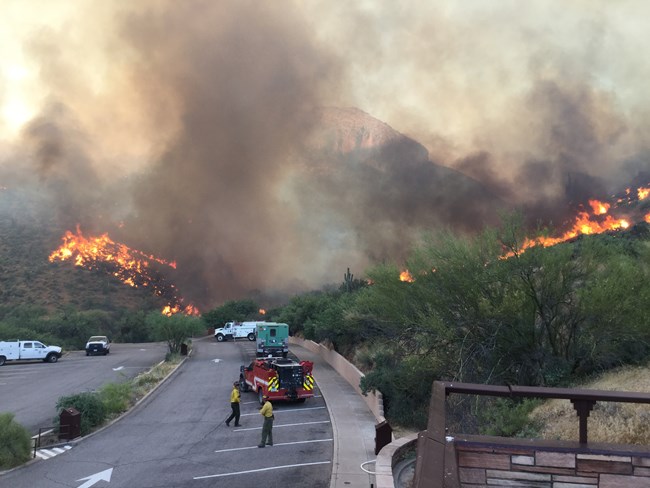 June 21, 2019-With the wildfire continuing to approach Tonto National Monument, the Incident Management Team for the Woodbury Fire decided to introduce low-intensity fire throughout the Monument. These firing operations were conducted to eliminate vegetation surrounding irreplaceable resources. By controlling a low-intensity fire rather than letting the wildfire take its course, these important resources had a better chance of being preserved. Firing operations were also conducted along the Highway 188 corridor to protect residences and other infrastructure.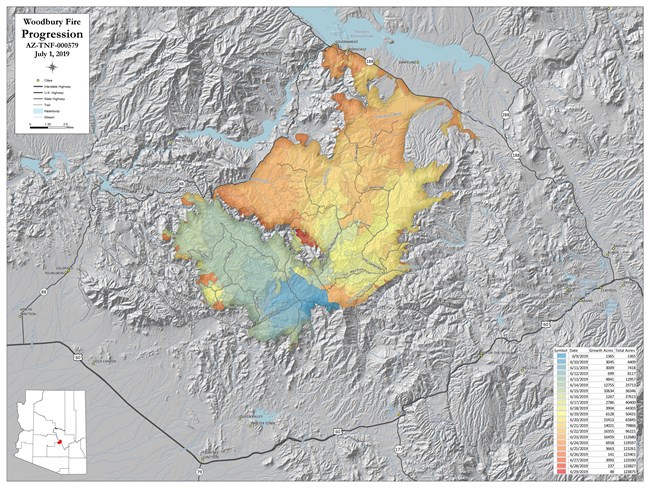 June 23, 2019-The wild Woodbury Fire met the area where firing operations occurred and was successfully slowed. No further progression of the fire took place within the Monument. While approximately 88% of the park (989 acres) was burned, no apparent damage to the Lower and Upper Cliff Dwellings, the Visitor Center, or other structures within the park were reported.
The Woodbury Fire burned 123,875 acres in total before it reached 100% containment.
Last updated: August 31, 2019