Blind / Low Vision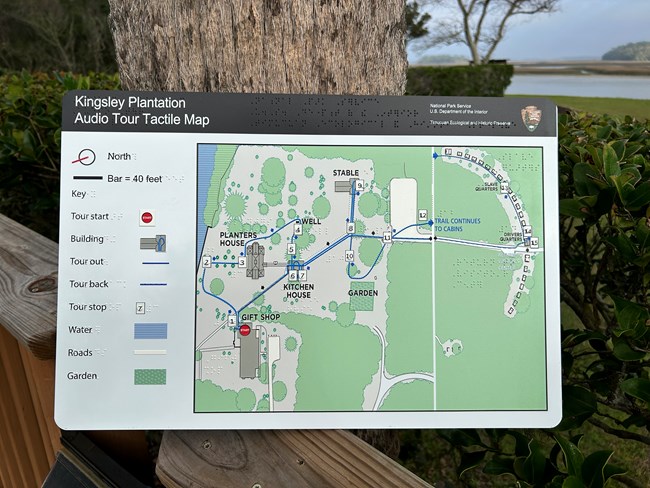 Park Map and Brochure
An audio described version on the Timucuan Preserve park map and brochure is available through the Unidescription App and by visiting this website.
The Fort Caroline brochure is available in braille in the Timucuan Preserve Visitor Center located at Fort Caroline National Memorial. Request a copy from the staff member at the desk.

Large-print version of the Kingsley Plantation Grounds Tour brochures are offered in the bookstore.
Audio Tour
The audio tour at Kingsley Plantation includes a captioned version and an audio describe version for hearing or visually impaired visitors. Just let staff know in the visitor center where you pick up the device which version of the tour you will need. A braille version of the site map is also available here. This tour won the 2014 National Park Service Programmatic Accessibility Achievement Award.
Audio Description of Cedar Point Exhibits
Audio descriptions of the wayside exhibits at Cedar Point are available on this site. A tactile map of the hiking trails is located at the restroom trail head.
Tactile Exhibits in the Park
Exhibits at the Ribault Club feature tactile elements on the side of each panel, a tactile model of the Spanish Mission on Fort George Island, and a tactile representation of the shell ring mound.
Cedar Point exhibit panels include a tactile map of the trails and elements to touch on two wayside panels.
A model of the leg stocks in the Kitchen House display case is available by request for visitors to Kingsley Plantation.
Rangers also present tactile pop-ups such as furs, bones, Timucua tools, and archaeological artifacts. Visit our
calendar
for pop-up schedule.
Request Special Assistance
If there are ways we can further support your visit
please let us know
.
Last updated: May 25, 2023