Events - Sixteenth Century Living History
These photographs were taken at living history events at Fort Caroline.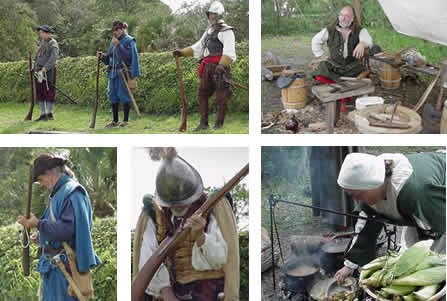 Recent Programs
School of the Sixteenth Century
Held Saturday and Sunday, February 3 & 4, 2007.
The National Park Service, Fort Caroline National Memorial area of the Timucuan Preserve hosted a free special event on February 3 & 4 between 10am to 4pm each day.
A photo album of the event is available on the Florida Times-Union (Jacksonville newspaper) website by clicking here.
There were historic weapons demonstrations such as cannon and musket firings each day. Reenactors set up a "tent city" and presented period specific activities such as cooking, weaving, gunsmithing, pike drills, sword fighting practice (using wooden swords) and garment making. Reenactors dressed in 16th Century French and Spanish clothing interacted with visitors in effort to better educate them about this the first battle by Europeans for control of North America.
Last updated: April 14, 2015