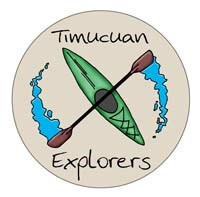 Timucuan Explorers Hit the Water for Cool Times during the Hot Summer
Local urban youth get a cool experience as "Timucuan Explorers" this summer. Children ages 10 to 14 hit the waters with the Park Rangers of the Timucuan Preserve in sunny Jacksonville, Florida. Many of these children would not otherwise be able to participate in a water-based activity like kayaking due to cost and transportation issues.
The youth kayaking program includes basic water safety and how to wear a life preserver properly. The kids learn to use a kayak paddle and how to enter, exit, and move a kayak safely through the water. Then they go for a short paddle to get used to the fun and work of kayaking. After lunch, the kids take off on a longer paddle and participate in a beach exploration while learning about the local environment and Leave No Trace tenets. After a cookie break, they paddle back to the starting point, taking responsibility for the equipment by carrying their kayaks back to the trailer and putting away their life jackets and water shoes.
Watch the "Kayak Time!" video (5.8 MB WMV) to see how the youth react to fun outdoor activities in their city's National Park.
Click here for a smaller file size version of the video (1.8 MB WMV).
Read the 2007 overview of the kayak program.
Return to Photos & Multimedia.