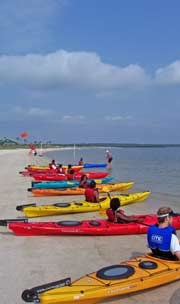 Timucuan Explorers Learn About Health, Nature and Slavery
Timucuan Explorers homepage has 2008 updates.
"Cool", "Sweet" and "Tight" are some of the words chosen by kids to describe their experiences as "Timucuan Explorers" this summer. Learning about the benefits of outdoor physical activity, the wonder of nature and an important period of American history—slavery, was the goal of this special program.
The Preserve was chosen to participate in a study of the link between health benefits and National Parks, as part of the greater Healthier U.S. Initiative. "Timucuan Explorers" targeted a very specific audience, the youth in urban and economically disadvantaged communities. While land based recreational sites within the Preserve are accessible to this community, water-based recreational opportunities are severely limited, due to costs and transportation issues. The young children and teens of these disadvantaged communities are most needy of recreational opportunities that promote physical activity and recreation within the context of a cultural and natural heritage site.
The program included a half-day of basic water safety, how to wear a life preserver properly, use a kayak paddle, enter and exit a kayak and how to get a kayak to move safely through the water to get from one place to the other. After a healthy lunch, the kids experienced a two hour, fun filled kayaking trip on the waters of the Preserve.
The kayaking adventure ended at the Kingsley Plantation where the children experienced a ranger led program to the historic slave quarters. Here the children were encouraged to discover and reflect on the daily lives of the enslaved people.
Each child received an activity booklet focused on daily hardships and the resilience of enslaved men, women and children who lived and worked the plantation 150 years ago. The booklet also included an activity about animal life in the surrounding area and a section of easy, healthy and yummy food recipes rooted in African and African-American culture.
Written by Dan Tardona, October 2007.
Return to Park News.