Civic Engagement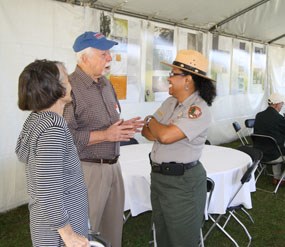 "Civic engagement" is a philosophy, discipline, and practice defined by the National Park Service as "a continuous, dynamic conversation with the public on many levels that reinforces public commitment to the preservation of heritage resources." . The National Park Service has established guiding principles regarding such civic engagement. The five NPS strategies that guide civic engagement initiatives are as follows:
· Be an effective collaborative leader by building a leadership approach for successfully collaborating with others and engaging with the public;
· Build NPS team capacity for engagement and collaboration through practices that enable successful relationships;
· Prepare in advance before launching an engagement process by investing the time in due diligence to understand the local context and history of park-community relationships;
· Build and maintain relationships through the application of proven practices of collaboration and civic engagement;
· Sustain the effort over time through practices that cultivate successful collaboration and partnerships.
Learn more about Civic Engagement
Last updated: September 21, 2022