Daily Life at Fort Caroline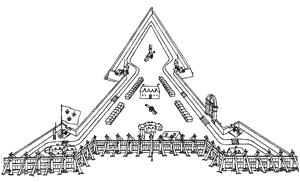 When the French came to Florida to settle in 1564, many of them were soldiers, but there were men and women who worked as farmers, craftsmen, cooks, laborers, and sailors. Most of the French were "Huguenots" (Protestants) but there were also people of other religions.
When they arrived, the settlers found northeast Florida wild and completely different from their homeland. There were no towns or shops, no place to buy supplies, and no familiar sounds or smells. The immediately began to build their new homes, and a fort, along the banks of the River of May, what we today call the St. Johns River. Jacques le Moyne, an artist who came with the colony in 1564, remembered that "Every one of us—noblemen, soldiers, workmen, sailors—worked hard to get our post ready to shelter us from the weather and protect us against enemies."
Measuring a piece of ground in the shape of a triangle, the colonists laid out their fort and settlement. Using shovels, cutting hooks, and hatchets, they cleared the site of trees. The fort and storage barns were built quickly, with other buildings soon to follow.
There had many challenges in building the new settlement. The first guardhouse, built in the center of the fort, stood too high and was blown over by fierce winds. They had to plan the town carefully to avoid dangerous accidents, so the baking ovens were placed outside the fort to keep fire away from the fort's powder magazine. Once the common buildings were completed, the colonists set to work building their homes.
Daily life activities included clearing the land, growing their own food, hunting, and cooking. The soldiers went on patrols of the area. It was difficult to survive. The Timucua helped the French with food. Jacques le Moyne said that "If the natives had not supplied us daily from their own stores, some of us certainly would have perished from starvation…"
Close this window to return to WebRangers - Fort Caroline.
Last updated: April 14, 2015