Exhibits at American Beach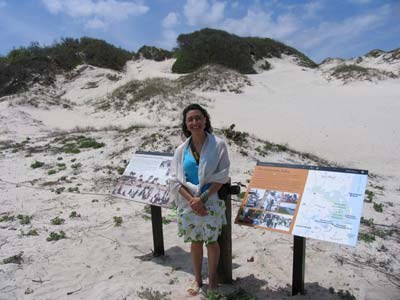 The National Park Service unveiled two exhibit panels at the sand dune on April 18, 2009. The exhibits placed at NaNa, as the sand dune is locally known, will make the story of American Beach available to visitors and our local community. The exhibits briefly discuss the heyday of the beach, which was founded in 1935, and show historic and modern photographs of activities at the beach. The design of the exhibits lets the large photographs of people enjoying the beach speak to the atmosphere and importance of American Beach during a time of racial segregation.
Choose a link below to view the panels, which were installed in June 2009.
Exhibit Panel 1 - American Beach at the Crossroads (146 KB, pdf)
Exhibit Panel 2 - The Crossroads Today (680 KB, pdf)
Return to the American Beach homepage.
These brochures must be viewed using Adobe Acrobat Reader. To download this program (free), click here. If you have a slow internet connection, it may take a few minutes to access the files.
Last updated: September 5, 2017