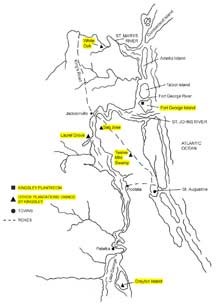 Zephaniah Kingsley arrived in St. Augustine, Spanish Florida, in 1803. As a new settler desiring land grants, he took the Oath of Allegiance to Spain.
Kingsley began acquiring land, by land grant and purchase, settling first at Laurel Grove Plantation on Doctor's Lake (in present-day Orange Park). His thriving mercantile and plantation operations were interrupted by the Patriots' Rebellion in 1812, when invading U.S. troops occupied the well-provisioned Laurel Grove. Seminole Indians, hostile to the Americans, attacked the base and crops and property were destroyed. Forty-one of Kingsley's slaves were killed or carried off by the Seminoles.
Kingsley then moved to Fort George Island, renting a plantation from John Houston McIntosh until 1817, when he purchased the property for $7,000. The Fort George plantation was home to Kingsley, his African wife Anna Madgigaine Jai (whom he had purchased as a slave), and their four children until the 1830's. During the time he lived at Fort George, Kingsley continued to increase his holdings. From the White Oak plantations on the St. Mary's River to orange groves on Drayton Island in Lake George, Zephaniah Kingsley eventually owned over 32,000 acres of east Florida.
For a map of Kingsley's properties (92 KB .pdf), click here.
Continue to Territorial Change in Florida.
Return to History of Kingsley Plantation.