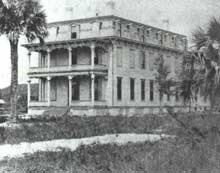 The Fort George Hotel (pictured at right) was built in the 1870s on the east side of Fort George Island, but burned in the 1880s. It was part of an effort to push recreation and tourism enterprises on the island.
During the 1920s, two country clubs were built on the island. The Fort George Club was built adjacent to Kingsley Plantation house (or "The Homestead" as the Rollins family called the site) and the Ribault Club was built on the empty site of the Fort George Hotel.
Both buildings still stand on the island. The Ribault Club is open to the public as a state park. The bookstore at Kingsley Plantation occupies a portion of the Fort George Club.
Return to Recreation Era.