Le Moyne & De Bry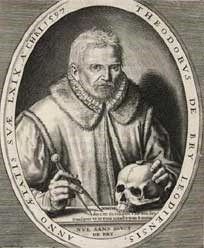 In 1586, Rene de Laudonniere's narratives on the French experience in Florida were published. The next year, Jacques le Moyne made plans to publish his own account, accompanied by his own artwork of the expedition's experiences in Florida. Unfortunately, Le Moyne died within that year, and so he was unable to finish the project.
A Flemish engraver, Theodore de Bry, had been in contact with Le Moyne and was interested in doing the engraving work for the publication. After Le Moyne's passing, de Bry bought the paintings from Le Moyne's wife and set about the engraving process.
De Bry had to fill in portions of Le Moyne's work to make it more appealing to book purchasers, who were very interested in news of the New World. Undoubtedly, de Bry made adjustments to the appearance of the subjects of the artwork, and added backgrounds imaginatively.
Despite these adjustments, de Bry's work preserved these early images of people and places in Florida, and remain an invaluable source of information about sixteenth century Florida.
Return to Explorers & Settlers of Fort Caroline.


Last updated: April 14, 2015