Esther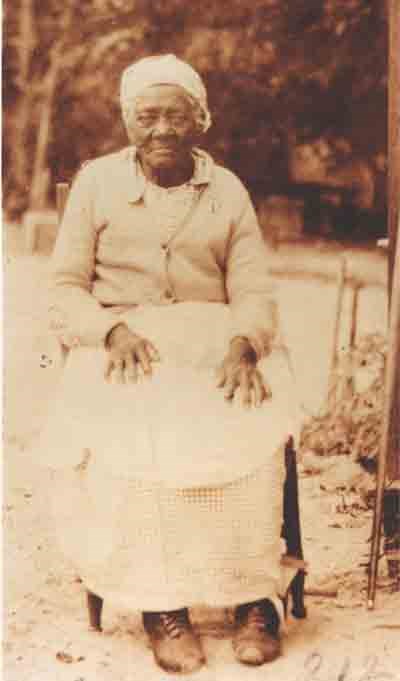 Esther Napoleon Lottery Bartley, known as Aunt Easter to family and friends, began her life as a slave born at the White Oak plantation under the ownership of Zephaniah Kingsley. The daughter of Carpenter Bonafi and his wife Mary, she was born around 1823 and died on January 3, 1931. The exact date of her birth is unknown but she was speculated to have been approximately 108 at her death.
In an 1844 assessment of Zephaniah Kingsley's personal property, Esther and her family were appraised at a price of $4,620.00, but no other record exists regarding her early years at White Oak plantation or the Ft. George Island plantation. What is known definitively is that she and here family were sold to John Sammis's San Jose Plantation in 1848.
Esther was known to have married a fellow slave at White Oak when she was young. Her husband, Squash or Quash Lottery, was listed as the head of the household in an 1870 census record. They had four children named Anna, Ruth, Sallie, and Antoinette. A later census in 1880 listed Esther as the head of the household, which would imply that Quash had passed away.
Purchased by John Pratt in 1860 at a New Orleans slave auction, Esther and her family were relocated to Bellevue where they spent nearly the entire duration of the Civil War. During that time, Esther became close to her new mistress and performed a near miracle for her and her family. Mrs. Pratt was forced to flee from her home suddenly and requested of Esther that she hide her valuables and protect her children from detection. Esther hid the items well and after the war they were reacquired by Mrs. Pratt. Esther "hid" the children by a clever piece of trickery where she marched them right up to the army's path and then let all the world know how excited they were to view the victorious army, making it seem they were there for no other purpose. The ruse worked and as a reward, Esther and her family were given the means to travel back to Jacksonville after the war where they purchased property in Arlington from the Sammis family.
After Quash passed away, Esther remarried in 1882 to George Bartley. They had no children together but lived as a family until 1917 when George died leaving her a widow. By 1925, Esther had many grandchildren and great grandchildren. The remainder of her life is undocumented, but she was describe striking a "quaint old time figure," known for wearing a calico dress, apron, and a "spotless white bandana", leaning on a stout walking staff for balance. She was known for her keen, quick intellect and exceptional memory, right up to her days as one of Jacksonville's oldest citizens. After her death in 1931, she was buried in Arlington where she rests to this day.
Last updated: January 20, 2020