Decklog of the USS Seneca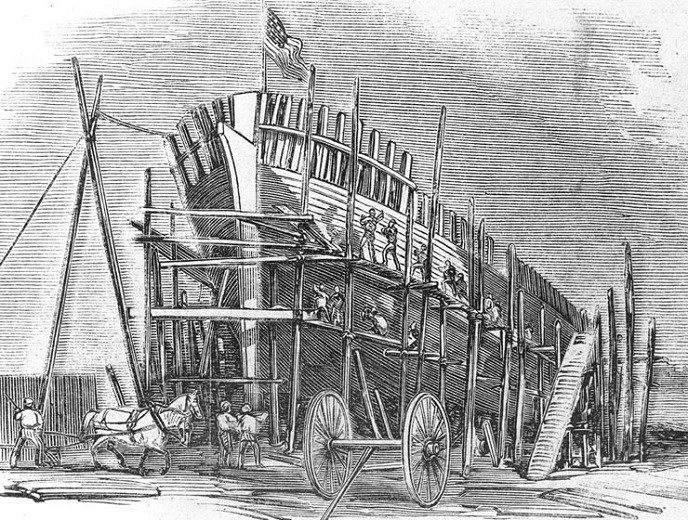 Seneca 10/14/62-10/22/62 Vol. 1 of 4
-----
Oct. 14, 1861 List of names of officers of the vessel (Seneca)
March 5, 1862 Arrive Fernandina Harbor / AI Lighthouse
March 6, 1862 Steamed up to Fernandina
March 11, 1862 (Off the St. Johns River)
From 6 to 8: cloudy with light drizzling rain, "Saw large fire in the direction of Jacksonville, supposed to be the flames of that City set on fire by the Rebels."
From 8 to Midnight: "…fire still burning."
March 12, 1862
Until four: "the rebel fires still burning brightly…"
From 4 to 8: "got underway and proceeded up the St. Johns River, astern of the "Ottawa."
From 8 to noon: "following the "Ottawa" up the St. Johns River, several houses hoisted white flags, as we passed."
From non to 4: "came to anchor off Jacksonville."
From 8 to midnight: "several fires burning on shore, the work of the rebels lurking about."
March 22, 1862
"At 8 (pm) sent Howitzer party ashore in charge of Mr. Vaughan, primed and pivoted and pivoted the battery."
March 25, 1862
"At 2:30 (am) heard the firing of Musketry. Called all hands to quarters, battery manned in 3 minutes. At 3 piped the retreat."
From 4 to 8: "Learned that the firing was upon our pickets, of whom 4 were taken prisoner and 1 killed. We took one prisoner."
March 26, 1862
All the boats but one sent out armed in charge of Mr. Sproston
March 28, 1862
'Darlington' (which was a prize steamer) arrived with 'America' (yacht) in tow.
March 31, 1862
From noon to 4: "at 1-0 (1:00?) Passed the village of Picolati. At 1-30 passed the terminus of St. Augustine and Cow Rail Reach. At 3-15 came to anchor off Orange Mills."
From 4 to 8: "At 5-30, sent Gig and Launch in charge of Mr. Sproston with orders to post a proclamation issued by Senior Officer F. H. Stevens dated March 25, 1862."
April 1, 1862
At 3- "a boat containing 3 negroes came along side, they having run away from their masters and were rec'd because on examination it was believed that their masters were under arms against the U.S. Govt."
At 7-30 "Sent Mr. Paine ashore with orders to bring off the proclamation posted yesterday."
April 2, 1862 (Off Orange Mills)
From 4 to 8: "Eight negro men came alongside in a small boat and were rec'd because their masters are in arms against the U.S. Government."
"At 8-20 got underway and stood down the river. 9-50 passed Picolati."
"At 5 (pm) sent launch on shore for one gun, two carriages and the wheels belonging to them. At 5-45 George M. Nake came off and was tried for breaking his liberty."
April 3, 1862
Sent 2 gun carriages with wheels and one brass Howitzer on shore.
April 5, 1862 (Mayport, Florida)
"At 11-30 up anchor and steamed up the river."
"At 12-45 in passing Yellow Bluff, received from 30 to 50 shots from rifles and musketry –Wounding Bulds (?) at Mast-head, Wells (?) on the Forcastle, and one black man passenger. We then … came to anchor. Opened fire with the Howitzer on Bluff rifle &pivot guns. Expending 4-11 in shell. One rifle shell to 10 shell from 24-pound Howitzer. At 1-30 up anchor and anchored off Jacksonville…"
April 6, 1862 (St. Johns River, Florida)
"At 8-30 (am) got underway and took the Schooner "Azalea" in tow and stood down the river. When near Yellow Bluff, off 11-30, ran on a shoal. Set the head sails and payed her off. As her bow went off we let go the port anchor, and when her stern swung off –hove up the anchor and stood down the river."
"While passing the Bluff the Howitzers and Pivots, were at quarters. The other small armsmen distributed around the ship, under cover of bulwarks planking."
"At 2- came to anchor off Yellow Bluff, fired one rifle shell, one 11-inch shell, one shell and one canister from Howitzer. At 3-40 up anchor again and steamed down the river."
"At 4-20 went to the assistance of the schooner J. M. Neal, that was ashore in the river. Gave her a hawser, but being unable to haul her off. … Came to anchor near her."
April 7, 1862
"At 2-30 Started up the river with her [the schooner J. M. Neal] in tow, in approaching Yellow Bluff called to quarters and fired one rifle shell into the woods eliciting no response, shoved on past."
"Received from the quartermaster of 4 New Hampshire Regt. 3 bbls of pork, 1 keg pickles, and ½ bbl of sugar."
April 8, 1862
Rec'd on board 3 families to go as passengers to Hilton Head
At 12 when approaching Yellow Bluff, fired one 11 inch 5 sec shell and 2 rifle shells at the Bluff.
April 9, 1862
Went over to Hilton Head and anchored. Sent the 7 negroes ashore and also the wounded negro in charge of Provost Marshall. A
April 17, 1862
Saw Amelia Light April 18, 1862 Crossed St. Johns Bar
April 19, 1862
Helping load lumber onto Schooner C. M. Neil at MM.
April 22, 1862
7:45 (am) "one shore boat came alongside with one white and one black man."
1:15 Passed Picolati,
1:30 observed a steamer about ten miles up the river, followed her as far as Orange Mills (too many shoals) April 23, 2006 11:00 took aboard a lady passenger bound for Fernandina
2:30 passed Jax and called all hands to quarters
At 3:45 passed Yellow Bluff and fired on 1 inch shrapnel cut-at-1 ½ secs.
April 24, 1862 PM.
Took on board a female passenger [who said it was necessary for her to leave Jacksonville] (in pencil)
April 25, 1862
Afternoon –"captured and took on board as prisoner Durham Hall, confined him to double irons." 4:30 sent letter on shore from the prisoner 5:30 fired one Rifle Shell at Yellow Bluff
April 26, 1862 At Mayport Mills
At 6:30 (AM) three men, John Driver, Leonard Driver and Chas. Watson, deserters from Capt. Steele's company Rebel Army came on board for protection. Morning –passed outside the bar, sent ashore the women we had as passengers.
April 27, 1862
2:35 boat with flag of truce came alongside
4:15 bearers of flag of truce went ashore April 28, 1862 Down past Picolati
April 29, 1862
From 4 to 6: boat came alongside, 2 negroes and white man and were allowed to proceed to Jacksonville.
May 2, 1862
Expended one inch shell at Yellow Bluff (stay up river overnight)
May 3, 1862
Took possession (for temporary use) of a schooner belonging to (?)
From 6 to 8 PM Whalers crew engaged in fitting out the schooner
May 4, 1862
From 4 to 8: "Employed fitting out a small Schooner for the purpose of transporting refugee men, women and children to Fernandina.
At 7 –schooner being watered and provisioned and 20 refugees on board, placed her in charge of Acting Master Hamilton with an armed crew….
At 7-30 Exchanged numbers with the UF GB "Isaac Smith" which vessel fired a gun. A schooner in sight, also off the Bar."
"Capt. Ammen and Mr. Vaughan went out to the 'Smith' in the Gig. Read divine service and mustered crew the "Isaac Smith" and her prize Schooner came in and anchored."
May 5, 1862
"At 5-15 got underway for Yellow Bluff."
"At 11-15 the crew returned on board, from yellow Bluff to get dinner."
"At 3-45 some rebel soldiers were seen and we went to quarters and fired two XI inch shell and three Howitzer shell."
From 4 to 6: "The working parties came on board and we weighed anchor and stood up the river and ran aground just above Yellow Bluff."
May 6, 1862
"At 9 Sent Mr. Vaughan on board the "Isaac Smith" to Pilot her down the river."
"Steamer 'Darlington' came in over the bar. …
At 5-15 the 'Darlington' made signal 400 as her number.
At 5-30 the 'Darlington' came to anchor near us and sent our Officer* and men on board, also our mail, she brought from Fernandina. (*Mr. Hamilton states that Col. (?) Drayton retained the small schooner in which he took the refugees, as it had belonged to the Fort and had been stolen.)"
May 7, 1862
"At 5 (am) Mr. Gregier was sent with the Whaler to take Charge of the Schooner 'Garibaldi' and sail down to Mayport Mills. But the wind not being strong enough pulled down in the Whaler.
At 6-15 got underway in Company with the 'Darlington' for Jacksonville."
"At 9-30 anchored off Jacksonville and sent a flag of truce ashore in charge of Lt. Sproston. The 'Darlington' anchored astern of us. At 11-10 a flag of truce came aboard from the rebels and went ashore again.
At 11-30 the 'Isaac Smith' anchored on our starboard quarter." (They went ashore and showed a flag of truce several more times that day.)
May 10, 1862
"Sent Prince the pilot on board the 'Isaac Smith.'
At 10 Lieut. Lush of the Rebels came on board under a flag of truce.
Left at 10-15."
At 12-30 sent flag of truce on shore by Lieut. Sproston.
At 2-30 returned again up anchor and steamed down the river.
May 11, 1862 (Mayport Mills, Fla.)
"called alongside a boat containing two white men, questioned them and then allowed them to proceed."
May 12, 1862 (Mayport Mills, Fla.)
"Sent pilot Dame (?) in his boat up to Jacksonville with ice for an invalide and a message to Col. Hopkins of the rebel forces."
May 16, 1862
'Garibaldi' brought a passenger down that was landed at Mayport.
May 21, 1862 (Mayport Mills, Fla.)
"the passenger that goes aboard the schooner tomorrow came aboard and took the Oath of Allegiance." May 27, 1862 9:30 (AM) at mouth of Black Creek with 'Patroon'
4:30 Steamed to anchor off Magnolia
6:10 Whaler returned without any beef
May 28, 1862
Got a bullock (7:00 returned to ship)
May 29, 1862 (St. Johns River, Fla.)
"At 10- up anchor and steamed up the river … and made signal to 'Patroon,' 192.2139.192. Anchored and sent boats."
"At 4 stopped and rec'd on board a female refugee."
"J. B. Anderson, a deserter from the rebels came aboard off Yellow Bluff. Fired a 3 Sec. x1 inch shell."
"Note. Now J. B. Anderson, a deserter from the Confederate Army …(?)… has taken the oath of allegiance."
Condemned given bread and tea
June 5, 1862 (AM)
Large quantity of mosquitoes on the vessel
June 7, 1862
Anchored at mouth of Black Creek with 'Patroon'
June 8, 1862
"Sent an armed party ashore in 3 boats in charge of Lieut. Sproston to capture a rebel named Houston. …
At 5-20 the three boats sent to capture a rebel by the name of Houston returned bringing him up. Posed (?) to be mortally wounded and the body of Lieut. Sproston who was instantly killed by a pistol shot from Houston, at the time of his capture."
"At 10 took on board Ms. Jane Fuller and a deserter named Hubert Ward.
At 11-45 passed Yellow Bluff. Fired rifle and small arms as we passed."
-----
June 11, 1862 At Port Royal ----- DICTIONARY OF AMERICAN NAVAL FIGHTING SHIPS, V.6, 1976 p. 440 http://www.hazegray.org/danfs/gunboats/seneca.htm
Last updated: April 14, 2015