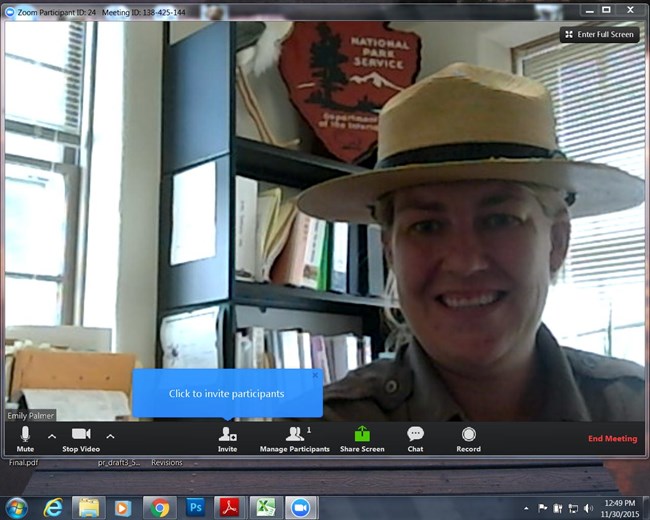 Bring a Park Ranger into Your Classroom
The National Parks belong to the people and in an effort to make ranger guided experience's available to every student in America we are expanding our field trip programing to bring a ranger into your classroom.
Ranger guided virtual field trips are available Tuesdays during the school year. This free program is limited by first come first serve sign ups so please call or e-mail Ranger Emily Palmer (emily_palmer@nps.gov/904-251-3537) to schedule your preferred date.


Multiple Platforms
We are happy to offer ranger led programs on Skype, Facetime and Zoom. Our preferred platform is Zoom as it enables us to share video, photos, and answer questions from multiple classrooms at once. Programs generally run 45 minutes and engage participation from the virtual audience including questions and answers. Technical assistance is available and rangers will be happy to work with you on a technical test run if needed.
Virtual Field Trip Topics
The Timucuan Preserve is a rich park with amazing stories to tell. We are constantly expanding our programs and field trip topics. Currently offered:
A Day in the Life of a Timucuan: This program compares and contrasts everyday modern life with the experiences of the Timucua-speaking people. Explore how they used their environment to meet the same needs we have today. This program includes a Timucuan botany talk.
Slavery in Spanish Florida: Explore the history of Spanish Florida's plantation system. Learn about cash crops like Sea Island cotton, discover artifacts that help us understand the experiences of enslaved people and take a short video tour of the tabby slave cabins at Kingsley Plantation.
Founding a Fort in Florida: Why did the French Huguenots leave their homeland? What did they find in Florida? How did they survive? What became of the colony? These mysteries will be answered in our virtual field trip exploring the story of Florida's Atlantis.