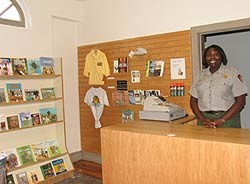 Purchases made at the bookstores in the preserve support the park. The bookstores are managed by Eastern National, a cooperating association of the National Park Service.
Cooperating associations help educate park visitors about the national park system through the sale of educational products support park programs and projects not readily achievable by federal funds and personnel. Cooperating associations enhance visits to the national park system by operating bookstores, developing educational products and supporting the educational/interpretive programs of the National Park Service.
Fort Caroline and Kingsley Plantation items are also available on Eastern National's website.