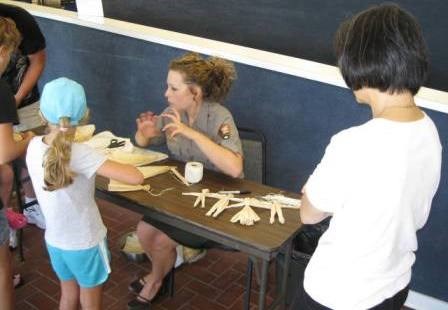 Thomas Stone National Historic Site has obtained funding to implement a Teacher-Ranger-Teacher program for summer 2012.
Although our sister park, George Washington Birthplace National Monument has been involved in the program, this will be the first time it has been implemented at Thomas Stone NHS.
A particular area of emphasis for the park is the development of new curriculum-based education programs. The candidate would work on developing a new program to supplement the existing programs the park offers and requires a candidate with strong skills in the development of these programs. The candidate would also make recommendations as to which technologies the park should be using to better reach out to students. During National Park Week of 2013, (late-April) the teacher will make a presentation about the National Park Service and their partnership experience to their local school district.
The Teacher-Ranger-Teacher position lasts eight weeks. Scheduling is flexible. The candidate will receive a stipend of $300/week and will be required to wear the NPS uniform. No housing is supplied so preference will be given to local area teachers (Charles, Calvert, Prince George's, or St. Mary's counties.)
For more information, please call Supervisory Park Ranger Scott Hill at 804-456-7299. To apply for this position, send a resume via fax (301-934-8793,) email (e-mail us) or mail: Thomas Stone NHS, 6655 Rose Hill Road, Port Tobacco, MD. 20677. Applications are due by April 6, 2012.