Thing to Do
Snow Pass Ski Trail

The Snow Pass Ski Trail is a 4.2-mile (6.76-km), skier-tracked easiest to most difficult one-way ski that takes skiers through a heavily forested area to wide open views of Swan Lake Flats. There are three trailheads for this trail with varying skill level required. For more advanced skiers, begin 0.4 miles (0.6 km) south of the Upper Terrace parking area on the west side of the Mammoth-Norris road or take the short connector trail that joins from the upper end of the Upper Terrace Loop. The heavily forested trail ascends 700 feet in 1.5 miles (213 m in 2.4 km) through a series of very steep grades along the trail to Snow Pass. From Snow Pass, the trail continues 0.5 miles (0.8 km) down over rolling terrain to a trail junction where the ski route turns left (south) and follows Glen Creek over fairly level terrain for 2.2 miles (3.5 km), returning to the road just south of Rustic Falls. From here, you can either continue across the road to the Bunsen Peak Road Ski Trail (see decription) or turn left and ski down the road back to the Upper Terrace parking lot, which adds 2.6 miles (4.2 km) to the trip.
Notes: CAUTION: some curves have steep drop-offs and can be hazardous when icy. Bison and elk frequent this trail. Federal regulations require you to stay at least 100 yards (91 m) away from bears and wolves, and at least 25 yards (23 m) away from bison and all other wild animals.
Check out the ski trail details and accessibility information at the bottom of this page.
The duration will vary depending on fitness level, snow conditions, and length of time spent along the trail.
Easiest to most-difficult
Qualified service animals are welcome throughout the park and in all park facilities. However, they must be leashed and under your control at all times. This trail requires a backcountry access permit for service animals.

 
No fees are required, however, one-way or round-trip skier shuttles may be offered for this trail.


 
Location
Mammoth Hot Springs
Trailheads include one on Swan Lake Flats at Glen Creek Trailhead, a spur from the Upper Terrace Loop Ski Trail, and south of the Upper Terrace Loop Ski Trail parking area from the Mammoth-Norris Road.
No fees are required, however, one-way or round-trip skier shuttles may be offered for this trail.


 
Accessibility Information
This skier-tracked trail provides fairly level terrain for the first 2.2 miles (3.5 km) when accessed from the Glen Creek Trailhead on Swan Lake Flats. The section accessed from the Upper Terrace Loop Ski Trail and Mammoth-Norris Road is most difficult due to icy curves and steep downhill sections when traveled from the Glen Creek Trail toward the Upper Terrace Loop Ski Trail or the Mammoth-Norris Road trailheads. Total elevation gain/loss for the trail is 700 feet. Service dogs allowed with backcountry access permit.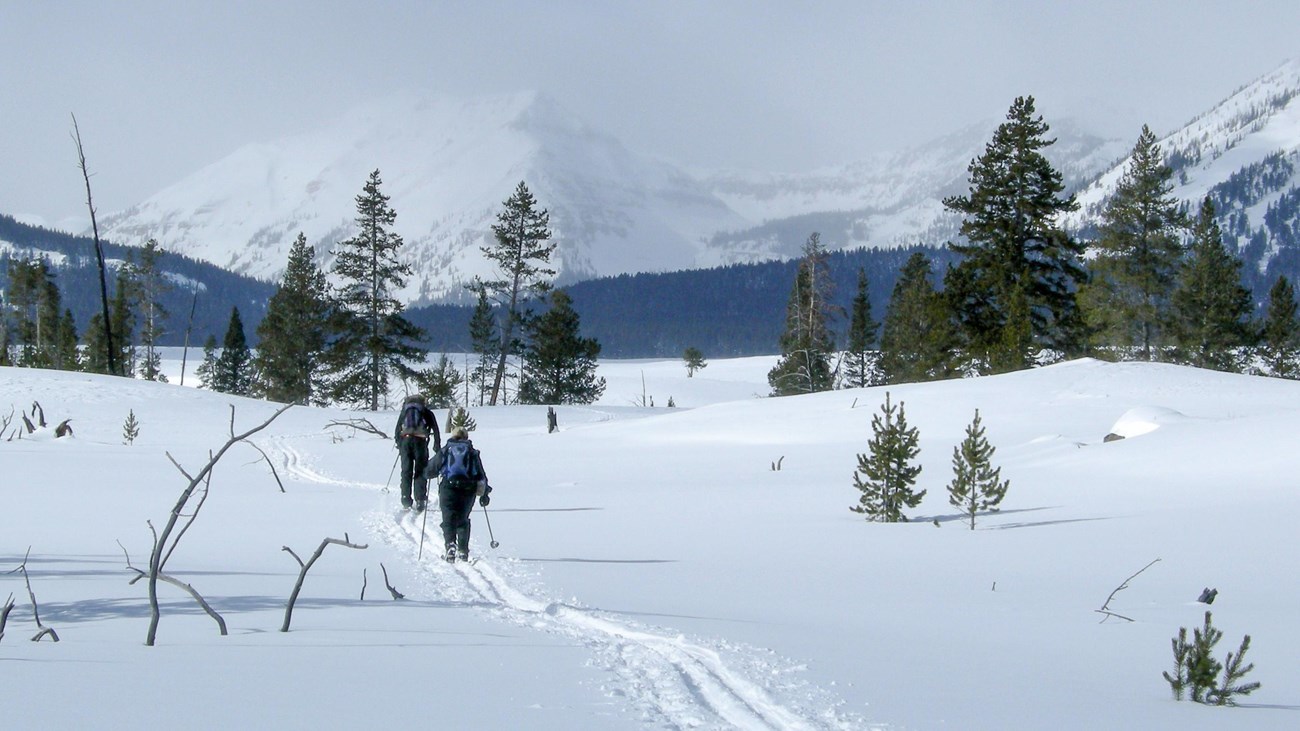 Mammoth Hot Springs Skiing & Snowshoeing
Discover the skiing and snowshoeing opportunities around Mammoth Hot Springs.
More On Ski Trail in Yellowstone
Ski Trail Information

With miles of ski trails to enjoy, start your trip planning here and confirm conditions at the Mammoth or Old Faithful Bear Den Ski Shop.

Winter Safety

Prepare for cold air, deep snow, and slippery boardwalks.

Winter Wonderland

Ready to brave the cold? Check out our tips for enjoying Yellowstone in winter.
Last updated: January 13, 2020