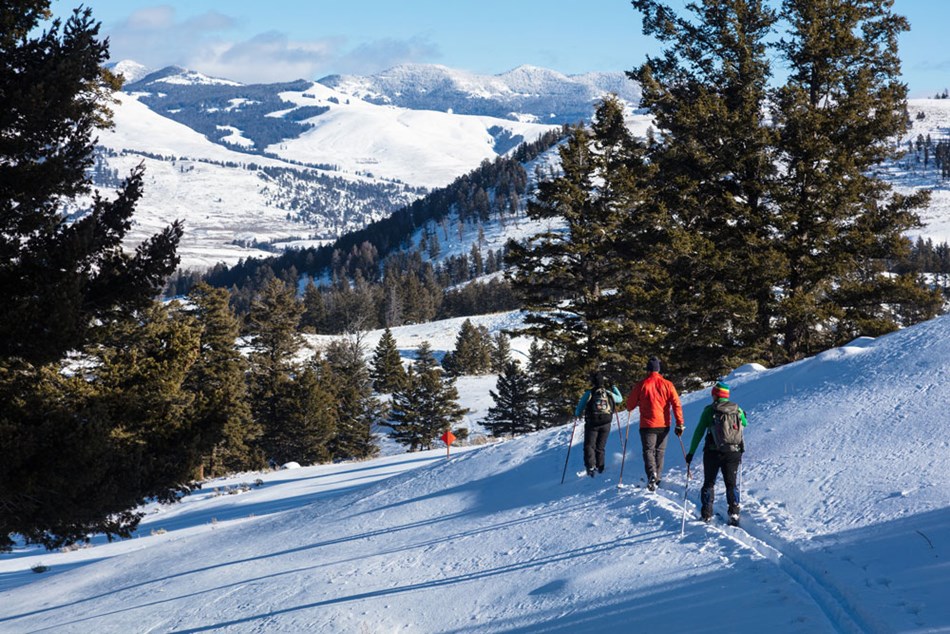 The Lost Lake Ski Trail is a 4 mile (6.4 km) easiest to more difficult one-way trail that takes skiers by Petrified Tree, Lost Lake, and Calcite Springs Overlook. Start at the Petrified Tree Road, just east of the exit of Blacktail Plateau Drive, or 1.4 miles (2.25 km) west of Tower Junction. The trail follows the road to the Petrified Tree, then leads through a narrow, open valley to Lost Lake. Follow the near shore (on the ice) the trail reaches the head of the lake after 1.5 miles to the head of the lake, then travel through intermittent forest and meadows. After 2.5 miles (4 km) and a short steep descent, the trail reaches Calcite Springs Overlook on the Tower Fall Trail, 1.4 miles (2.25 km) from Tower Junction. It DOES NOT follow the maintained summer trail. Watch closely for orange trail tags marking the route because it may be diffi cult to fi nd. Rolling terrain, views and possibly elk may be seen along this trail. Caution: Remove your skis for the short, steep section at the Lost Creek Bridge.
Notes: Bison and elk frequent this trail. Federal regulations require you to stay at least 100 yards (91 m) away from bears and wolves, and at least 25 yards (23 m) away from bison and all other wild animals.

Check out the ski trail details and accessibility information at the bottom of this page.