Thing to Do
Fairy Falls Ski Trail

The Fairy Falls Ski Trail is a 10 mile (16 km) (with ski drop) skier-tracked, round-trip, easiest to more dificult ski that provides icy views of one of Yellowstone's most popular waterfalls. Ski 1.3 miles (2.1 km) on the Fountain Flats Drive, then turn left on the Fairy Falls Trail. Most of the Fairy Falls Trail is level, but there are hills and bends in the trail near the falls. Return via the same route, then take the Powerline Trail or the snow vehicle road to Old Faithful. To reach the more difficult Powerline Trail, ski about 0.25 miles (0.4 km) south (right) along the snow vehicle road to the Mallard Creek trailhead on the left. Follow the Mallard Creek Trail and turn right at the first junction onto the Powerline Trail, which has rolling hills. The Powerline Trail leads to the Upper Geyser Basin Trail and Morning Glory Pool. Where the trail crosses thermal areas, you may need to remove your skis due to lack of snow.
Notes: Bison and elk frequent this trail. Federal regulations require you to stay at least 100 yards (91 m) away from bears and wolves, and at least 25 yards (23 m) away from bison and all other wild animals. Stay on boardwalks and designated ski trails. The ground is unstable in hydrothermal areas.

Check out the ski trail details and accessibility information at the bottom of this page.
The duration will vary depending on skier fitness level, snow conditions, and length of time spent along the trail.
Qualified service animals are welcome throughout the park and in all park facilities. However, they must be leashed and under your control at all times.
No fees are required, however, one-way or round-trip skier shuttles may be offered for this trail.
Skier shuttle reservations may be required to access this trail. Reservations and information are available at park hotels and at: 307-344-7311, Toll-free: 866-439-7375, TDD: 304-344-5395.
Accessibility Information
This skier-tracked easy to more-difficult trail provides level terrain with some hills and bends in the trail near the falls. The trail elevation gain/loss is 160 feet. Service dogs allowed.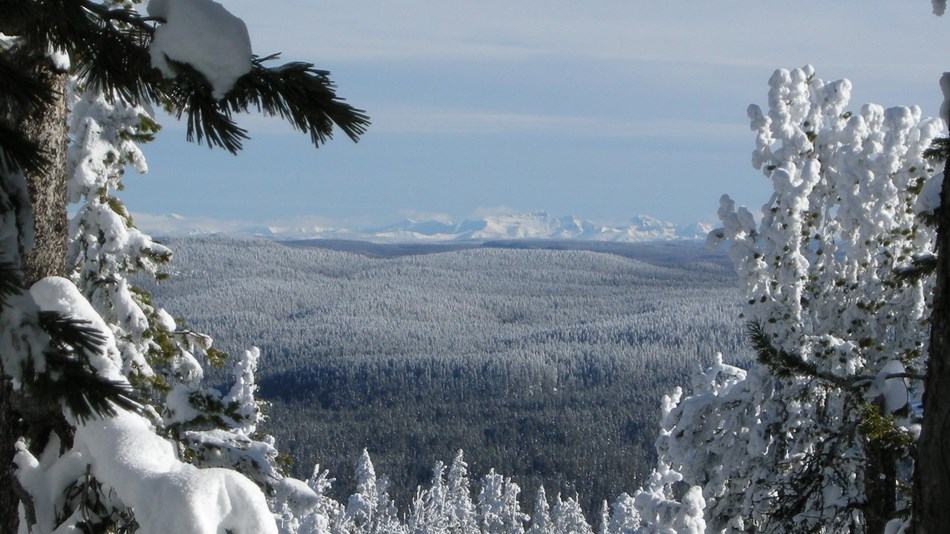 Ski Trails in the Old Faithful Area
The Old Faithful area offers a variety of ski and snowshoe trails suitable for all ages, abilities, and interests.
Ski Trail Information

With miles of ski trails to enjoy, start your trip planning here and confirm conditions at the Mammoth or Old Faithful Bear Den Ski Shop.

Winter Safety

Prepare for cold air, deep snow, and slippery boardwalks.

Winter Wonderland

Ready to brave the cold? Check out our tips for enjoying Yellowstone in winter.
Last updated: February 18, 2021