Thing to Do
Bighorn Loop Ski Trail

The Bighorn Loop Ski Trail is a 5.5-mile (8.85-km), easy to more difficult trail taking skiers on a loop through rolling terrain with outstanding winter landscape views. Begin at the Indian Creek Warming Hut and follow the Indian Creek Loop for the first mile. Continue west, making a loop through rolling terrain with outstanding views of the Gallatin Mountains, Gardners Hole, and the surrounding country. After completing the loop, return to the Indian Creek Warming Hut by the same route. There is also a cut-off which heads west from the Indian Creek Warming Hut and the Indian Creek Ski Loop 0.12 miles (0.2 km).
Notes: Bison and elk frequent this trail. Federal regulations require you to stay at least 100 yards (91 m) away from bears and wolves, and at least 25 yards (23 m) away from bison and all other wild animals. Stay on boardwalks and designated ski trails. The ground is unstable in hydrothermal areas.
This is a ski shuttle stop from Mammoth Hot Springs Hotel.
Check out the ski trail details and accessibility information at the bottom of this page.
The duration will vary depending on fitness level, snow conditions, and length of time spent along the trail.
Easiest to more difficult
Qualified service animals are welcome throughout the park and in all park facilities. However, they must be leashed and under your control at all times. This requires a backcountry access pass for service animals.


 
No fees are required, however, one-way or round-trip skier shuttles may be offered for this trail.
Skier shuttle reservations may be required to access this trail. Reservations and information are available at park hotels and at: 307-344-7311, Toll-free: 866-439-7375, TDD: 304-344-5395.
Accessibility Information
This skier-tracked easy to more difficult trail follows rolling and varied terrain. The trail elevation gain/loss is 320 feet. Service dogs allowed.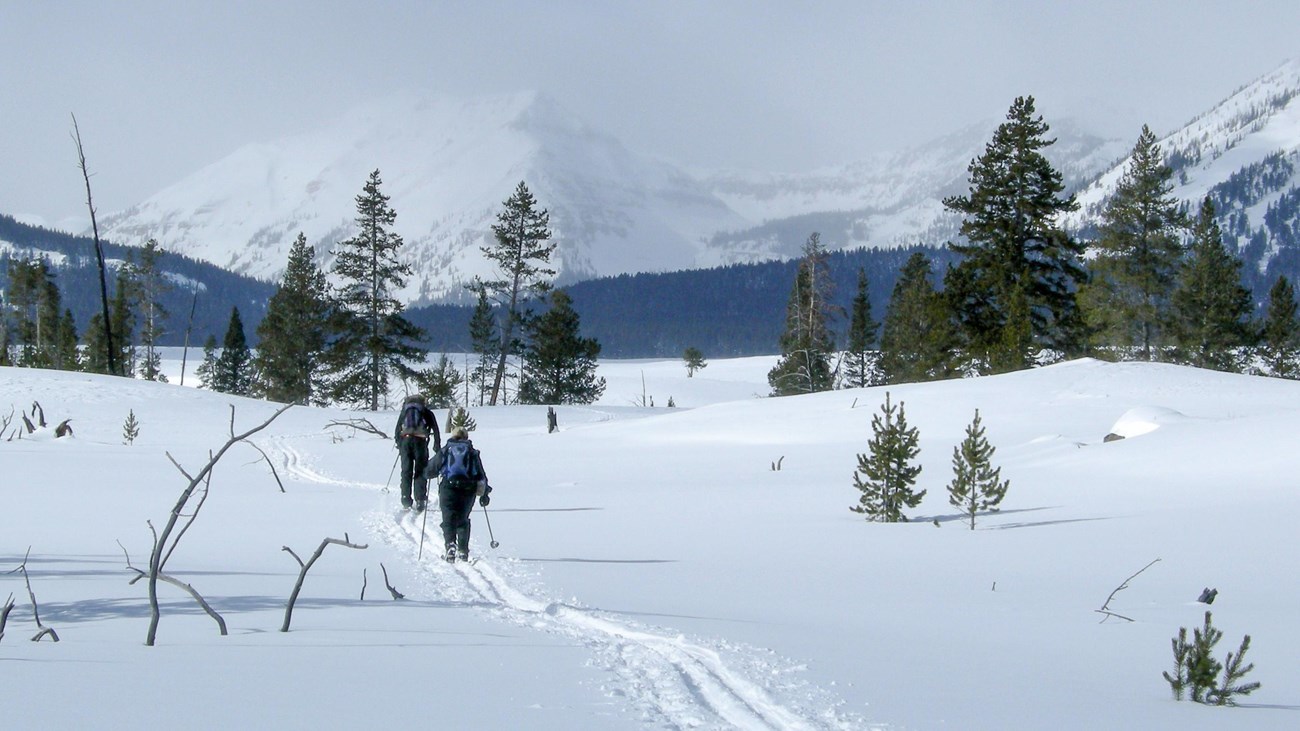 Ski Trails in the Mammoth Area
Hitting a ski trail is a great way to experience all that the Mammoth Hot Springs area offers.
Ski Trail Information

With miles of ski trails to enjoy, start your trip planning here and confirm conditions at the Mammoth or Old Faithful Bear Den Ski Shop.

Winter Safety

Prepare for cold air, deep snow, and slippery boardwalks.

Winter Wonderland

Ready to brave the cold? Check out our tips for enjoying Yellowstone in winter.
Last updated: January 13, 2020