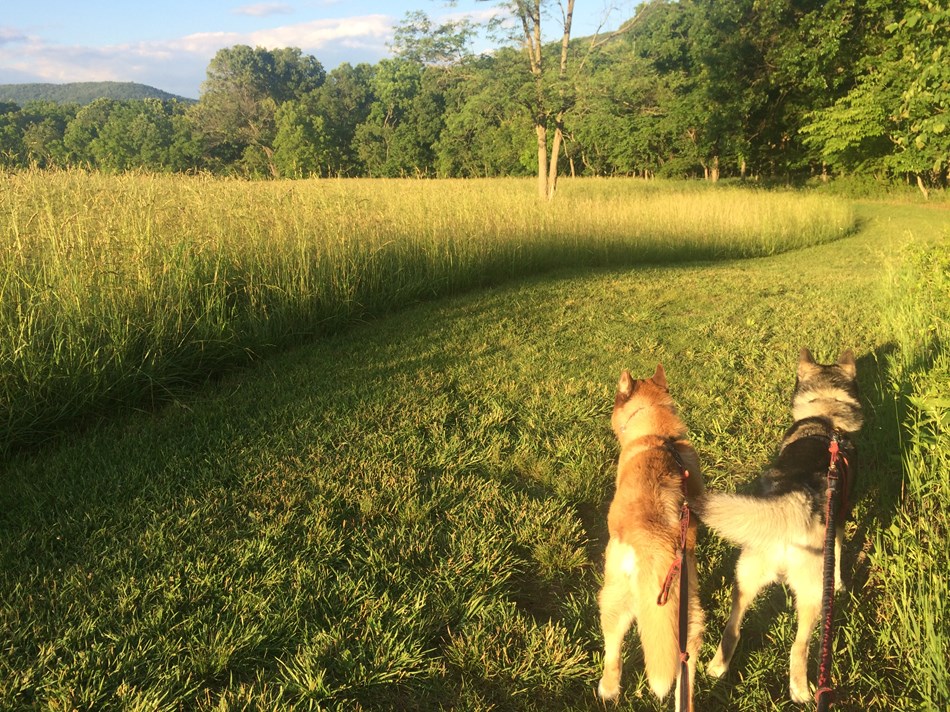 You and your pets will enjoy the Murphy-Chambers Farm hike through fields and wooded ravines to see spectacular views of the Shenandoah River and the surrounding mountains, as well as Civil War cannons, earthworks and the footprint of the John Brown Fort.
The trail starts at the Visitor Center, but can also be accessed from a parking area on the farm, which allows for an easy 0.75 mile stroll to the Shenandoah River overlook. From the Visitor Center, the trail crosses Shoreline Drive, goes down to a small creek and up to the unpaved farm entrance road. Here, hikers can stay on the road or go left and follow the tree line. Both trails lead to the overlook of the Shenandoah River. Near the overlook is the 1895-1909 site of the John Brown Fort and the Niagara Movement's 1906 pilgrimage. This was also the scene of Confederate General A.P. Hill's flanking maneuver in 1862.
From the overlook, hikers can follow a mulched trail that leads into the woods. This section of the trail goes to another view of the river and Civil War earthworks. The trail loops back to the farm road or turns left across a footbridge for 0.5 miles one way to a small creek.
Plan your visit with your dog appropriatly by reviewing the
park's pet page
.