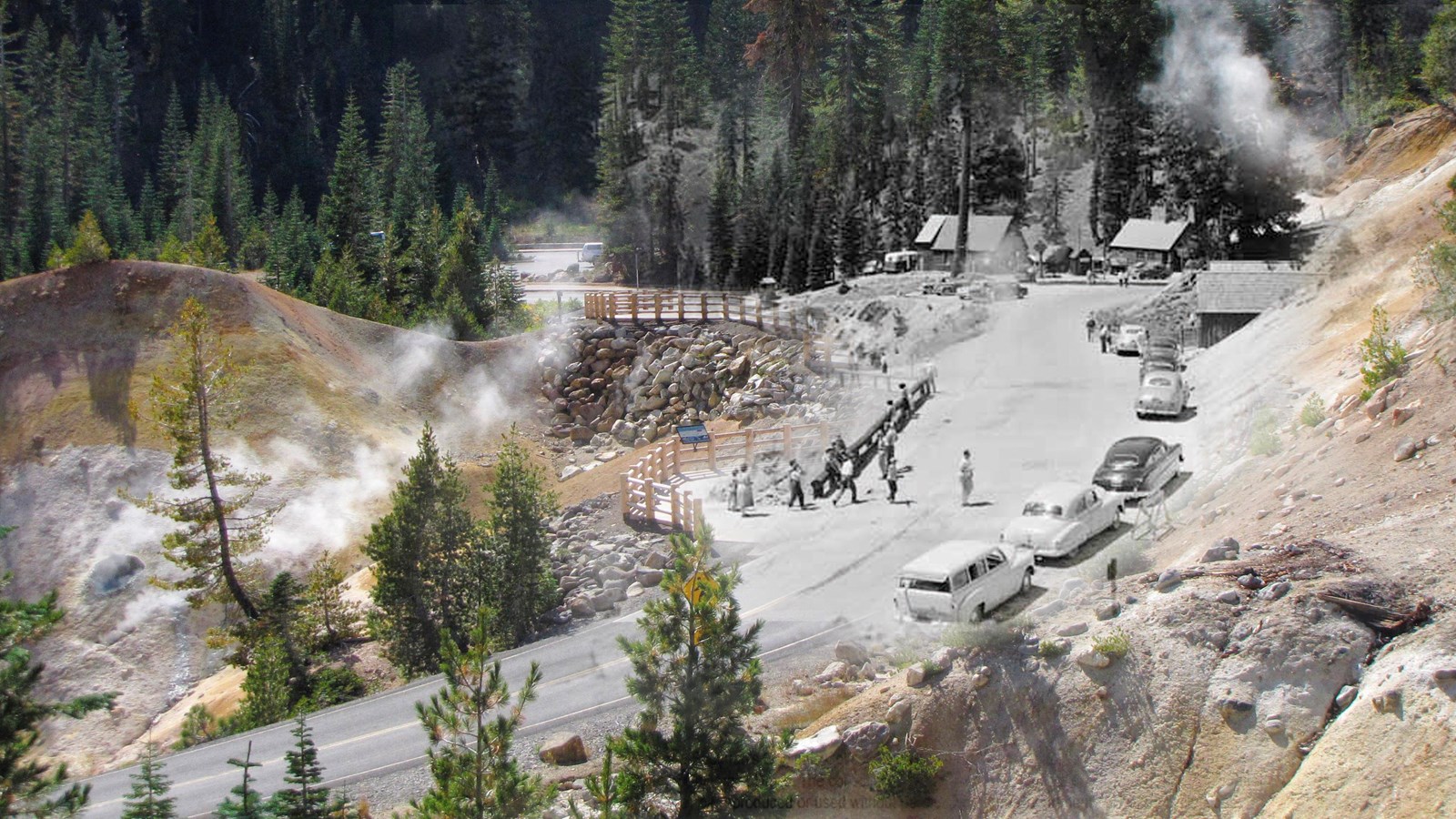 Location:
Lassen Volcanic National Park Highway
Parking - Auto, Parking - Bus/RV, Recycling, Restroom, Restroom - Accessible, Scenic View/Photo Spot, Trailhead, Trash/Litter Receptacles
Located along the park highway and accessed by a short walk along a paved sidewalk, Sulphur Works is the easiest of the park's hydrothermal areas to access. This hydrothermal area is an otherworldly place of vibrant colors, pungent scents, and shifting ground that is both ancient and new. Learn more about Visting Sulphur Works in summer/fall or in early spring/winter, or view 360-photos of Sulphur Works.

Sulphur Works is a vent for the last rumblings of a long-dead volcano and yet it is also reborn each day as forces of erosion and hydrothermal activity continuously alter the landscape. Although named after the chemical element of sulfur—which is a byproduct of the hydrothermal system—the area bears the British English spelling of the word assigned by a pioneer that once laid claim to what was then known as Supan's Sulphur Works.
Supan's Sulphur Works
An Austrian immigrant and pioneer of the American West named Mathias B. Supan, extracted minerals from the ground here in the middle part of the nineteenth century. He refined sulfur and other elements into a variety of different products. Later, Supan's descendants filed a land claim for the area around the time Lassen Volcanic National Park was being created, and went on to develop Sulphur Works into a roadside attraction. Lassen Volcanic National Park acquired the Sulphur Works parcel from the Supan family in 1952.
Inside a Volcano 
Sulphur Works hydrothermal area sits at the center of a wide basin surrounded by towering volcanic peaks. Geologists have determined that the encircling peaks (Brokeoff Mountain, Mount Diller, Pilot Pinnacle, and Mount Conard) are all remnants of a large, eroded volcano called Brokeoff Volcano, or Mount Tehama. 

Similar to the nearby cone-shaped Mt. Shasta, the 11-mile-wide, 11,500-foot-tall volcano would have dominated the landscape. This composite volcano's eruptive period ended about 360,000 years ago. Ever since, the forces of erosion by wind, rain, ice, and hydrothermal activity have slowly broken apart and carried away Mount Tehama bit by bit, leaving the large erosional basin we see today. Sulphur Works hydrothermal system sits in the same general location as Mount Tehama's extinct central vent. Sulphur Works is part of the larger hydrothermal system in the park. Recent volcanic activity and the hydrothermal system are evidence that magma still lies beneath Lassen today.
Last updated: March 24, 2022