Thing to Do
Swim Sand Beach

Pets Allowed
Yes with Restrictions
From June 15 thru September 15, non-service dogs are prohibited beyond the top of the beach stairs. See Sand Beach Rules & Regulations.
Entrance fees may apply, see Fees & Passes information.
Sand Beach is located off the Park Loop Road. This area is extremely congested during summer months. Taking public transportation is highly advisable.
Island Explorer Route #4 (Loop Road) provides access from the Visitor Center or Sieur de Monts throughout the day. Route #3 (Sand Beach – Blackwoods) also stops at Sieur de Monts and arrives at half-hour intervals staggered with those of Route #4.
Check
bus routes
for full schedules and timetables.
Season
Spring, Summer, Fall
Accessibility Information
Sand Beach is not accessible. There is a large staircase leading down to the beach from the parking lot.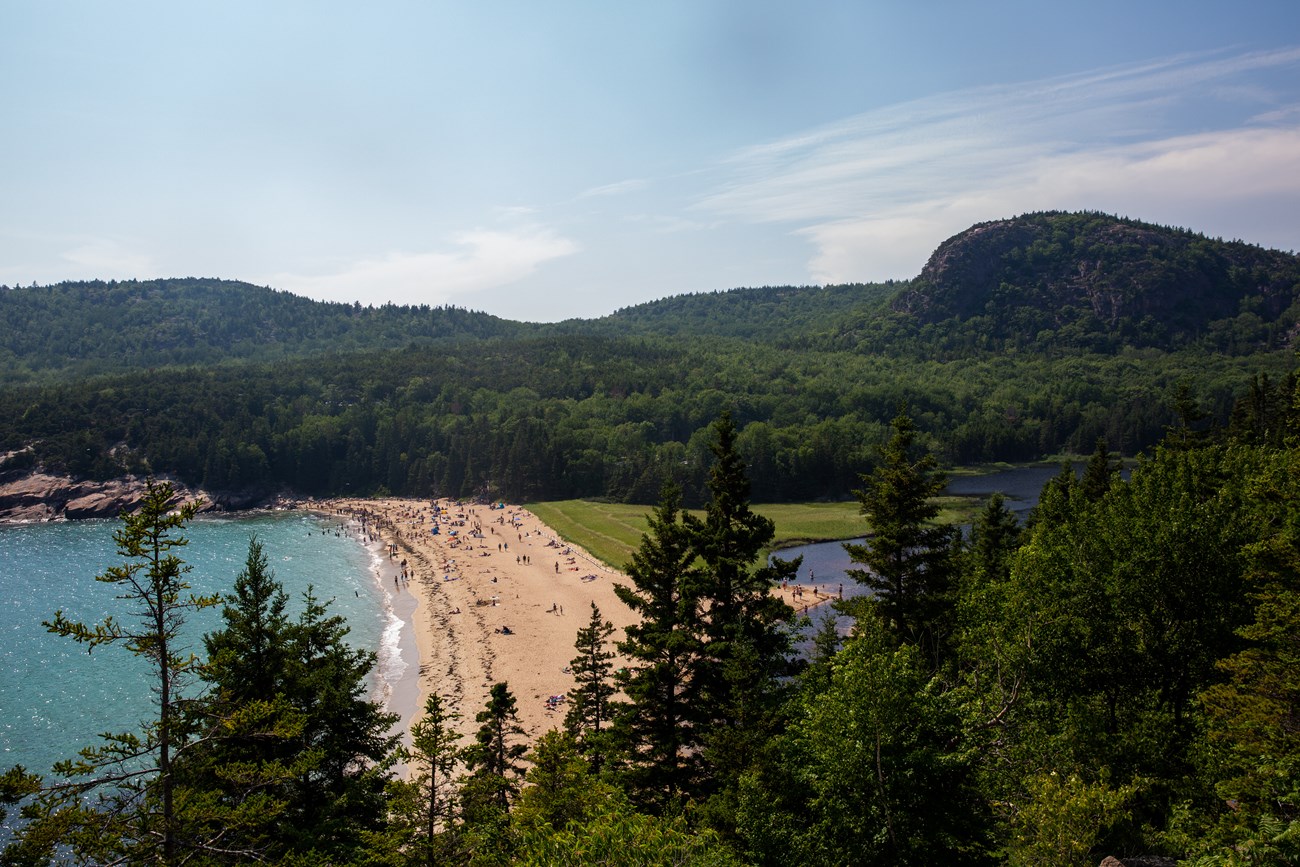 Acadia's only sandy ocean beach at the beginning of the Park Loop Road's coastal section, is one of the park's most heavily-visited areas. Three popular hiking trails—The Beehive, Great Head Trail, and Ocean Path—begin nearby. Other visitors come to swim in the frigid water, bask and play on the sand, seek intertidal creatures, or view a feature widely publicized as a "must-see."

The beach is approximately 290 yards, and consists of 70% shell volume and 30-40% shell weight. Daily water temperatures are posted the bulletin board by the parking lot. Normal range is 50-60° Fahrenheit (10-15° Celsius), depending on the time of year. The Gulf of Maine gets significant input from the frigid Labrador Current and from deep-sea currents, but little of the warm Gulf Stream.

Lifeguards may be on duty from early June through Labor Day. Be aware: Swimming in natural areas poses risks. Your safety depends on your own good judgement.
Sand Beach Rules & Regulations
Sand Beach is a designated swimming beach from June 15 thru September 8.
During swimming beach designation, the following rules apply:
Activities/Items Permitted/Not Permitted during Swimming Beach Designation

| | |
| --- | --- |
| Possession/use of USCG-approved flotation | Permitted |
| Possession/use of other flotation | NOT PERMITTED |
| Possession of glass containers | NOT PERMITTED |
| Possession of dogs/pets | NOT PERMITTED |
| Fishing (see below) | NOT PERMITTED |
| Snorkeling/Scuba Diving | NOT PERMITTED |
| Launching/landing of boats | NOT PERMITTED |
| Possession of alcohol | NOT PERMITTED |
| Incompatible sporting activities | NOT PERMITTED |
| Kite Flying that creates an interference | NOT PERMITTED |
| Surfing | NOT PERMITTED |

During the time that Sand Beach IS NOT a designated swimming beach (September 9 thru June 14),
the following rules apply:
Activities/Items Permitted/Not Permitted during Non-Swimming Beach Designation

| | |
| --- | --- |
| Possession/use of USCG-approved flotation | Permitted |
| Possession/use of other flotation | Permitted |
| Possession of glass containers | NOT PERMITTED |
| Possession of dogs/pets | Permitted |
| Fishing (see below) | Permitted |
| Snorkeling/Scuba Diving | Permitted |
| Launching/landing of boats | Permitted |
| Possession of alcohol | NOT PERMITTED |
| Incompatible sporting activities | Permitted |
| Kite Flying that creates an interference | Permitted |
| Surfing | Permitted |
Sand Beach Sand Dunes are closed to the public - the dunes and associated dune grasses are a unique and sensitive park resource that are easily impacted by human foot traffic.
No camping
No metal detectors
No smoking
Collecting occupied seashells is not permitted
Fishing is permitted from adjacent rocks on either side of the beach
Last updated: August 21, 2023