Thing to Do
Stoll Memorial Trail (Scoville Point)

This figure eight shaped trail offers the experience of a primarily wooded setting on the Tobin Harbor side, and a rocky, exposed setting on the Rock Harbor side. At the end of the trail, both paths converge for the last half mile to ascend the rocky face of Scoville Point. Two return loops alow great versatility regarding the length and duration.

Trailheads: The Rock Harbor section starts at the trailhead just past the Rock Harbor Recreation Hall and the Rock Harbor Lodge Ojibway building. The Tobin Harbor section starts at the sign pointing to 'Smithwick Mine' behind the Rock Harbor Audtorium.
This is a 1.9, 3.2, or 4.2-mile (3.1, 5.1, or 6.8-kilometer) trail, accounting for the possibility of two return loops.
Activity
Front-Country Hiking
Given its flexible distance, trail is great for all ages. There are some cliff areas that could pose danger to young travellers, and rocks get quite slippery during or after rain events.
Entrance fees may apply, see Fees & Passes information.
Location
Rock Harbor Area
Though there are great opportunities on the trail to view the night skies, one would not want to travel great distances in the middle of the night due to the island's substantial darkness. Loss of a flashlight could easily be dehabilitating.
Accessibility Information
Trail is composed of footpaths and elevated boardwalks that require steps to access. There are also steps carved into the rock formation at the end of the trail that can be moderately difficult to climb, and a steep slope down to a bridge close to the trailhead on the Rock Harbor side. Overall, the Tobin Harbor sides of the trail are relatively smooth, while the Rock Harbor sides are rocky and more difficult to maintain footing.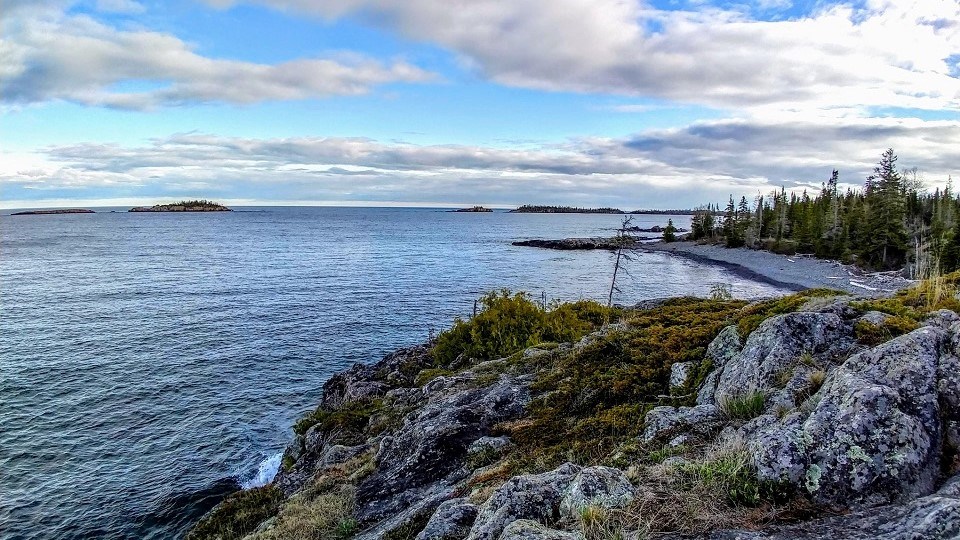 Last updated: February 11, 2022