Thing to Do
See the Wild Horses in the Maryland district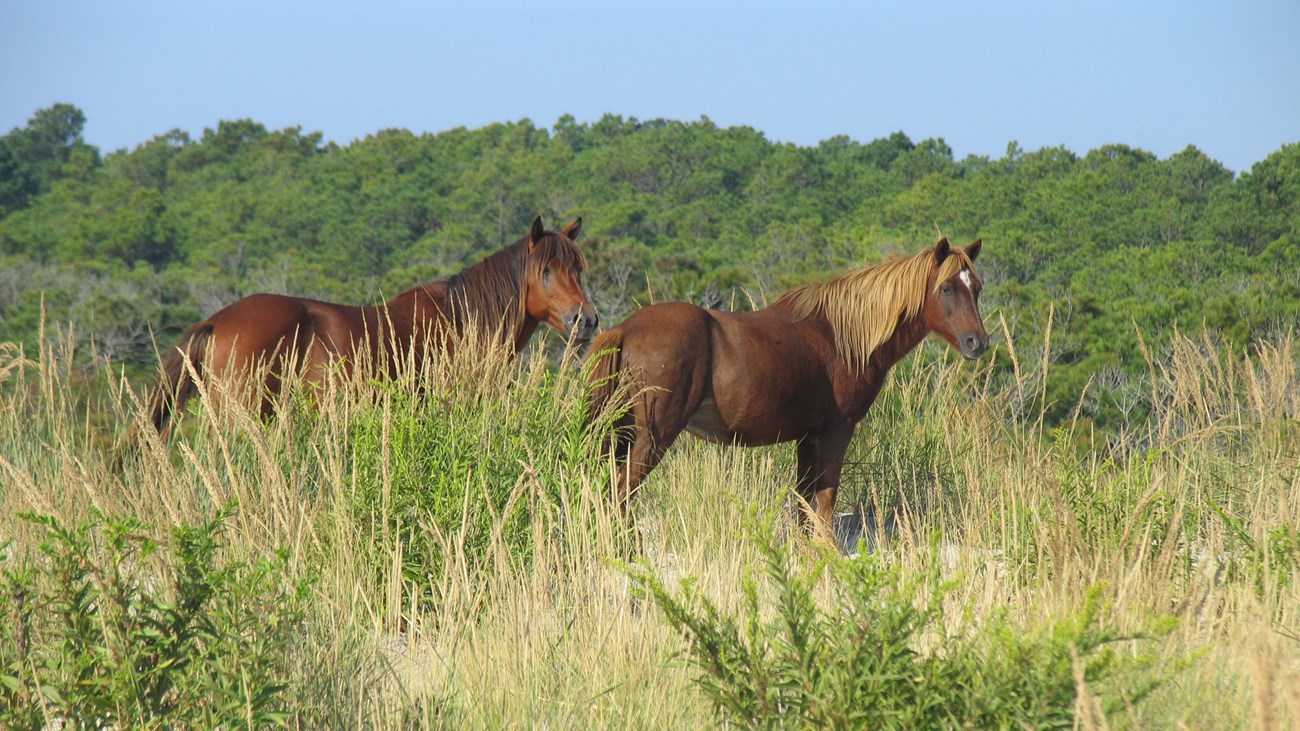 Many visitors come to Assateague each year with hopes of seeing the wild horses. While we cannot guarantee that you will see them, these tips and directions will improve your chances. It is prohibited to come within 40 feet of a horse or to touch or feed a horse. Remember these are wild horses and they will kick and bite. Many have become used to the presence of humans in their range. If they move in your direction, it is your responsibility to move out of their way and allow them to pass.
As you descend down the Verrazano bridge you will be entering wild horse territory. In the Maryland district, the horses have free range over the entire Maryland district stretching from the north end of the island down to the Virginia state line where a fence is installed across the entire width of the island.
The horses spend most of their days grazing, sleeping, and moving slowly in small bands from one feeding area to another. Check the marshes and bayside areas to observe them in their natural habitat as they feed primarily on saltmarsh cord grass. Occasionally, they also eat beachgrass, greenbrier, phragmites, poison ivy, and many other types of vegetation so also visit the beach and forest habitats. Horses cross roads, graze beside roads, and stand in parking lots regularly, so remain alert as you drive through the park and reduce speed to below the posted limit as necessary when passing horses. If you stop to observe them, keep your car windows up if they approach.
Seasonally, horses also change their habits. In the summer the horses tend to be in the more developed areas of the park including the campgrounds and beachfront. This change in range is believed to be because mowed and paved areas provide some relief from biting flies. It is important that you do not feed or approach within 40 feet of the horses. In the winter, the horses tend to spread out fairly evenly along the length of the island from the north end to the state line.
Learn more about the wild horses here.
Learn more about viewing and photographing wildlife here.
Activity
Wildlife Watching
Wild horses roam the various habitats of Assateague Island. In the Maryland district keep your eyes peeled through out your entire trip as you could see them anywhere!
Pets are permitted only in specific areas of the Maryland portion of the National Seashore. Please manage your pets. Pets must be kept on a leash no longer than 6 feet at all times! Please pick up after your pet.The hot sand and sun can be harder on your pet than it is on you. Unattended and unrestrained animals can disturb and harm island wildlife and other park visitors.
Pets are prohibited in the following areas to protect wildlife, habitat and visitors:
• The entire Virginia portion of Assateague Island 
• All backcountry campsites
• Nature trails
• Lifeguard-protected beach
• Portions of 
Assateague State Park
• North of the State Park to the Ocean City inlet
Park entrance fees apply.
Location
Maryland district
Horses are wild and may be found roaming the entire area of the Maryland district of Assateague Island National Seashore. 
Horses are visible year-round.
Horses are able to be seen at all times of day, and are best to view in the daylight. If visiting after dark, slow down while driving. Horse eyes are not reflective, making horses on or along the road hard to see in the dark. Roll vehicle windows up if a horse approaches the vehicle. 
Accessibility Information
Most often, viewing the horses is accessible by car, foot and bike. Many times horses can be seen along the side of Bayberry Drive while driving into the park. There is also a paved, flat bike trail that is also wheelchair accessible along Bayberry Drive. 

If you would like to view horses out of a vehicle, often they can be found in paved parking lots or off the trails. Parking lots are paved, but may have some areas of unevenness.
Last updated: April 27, 2021