Thing to Do
Old Rag Summit via Berry Hollow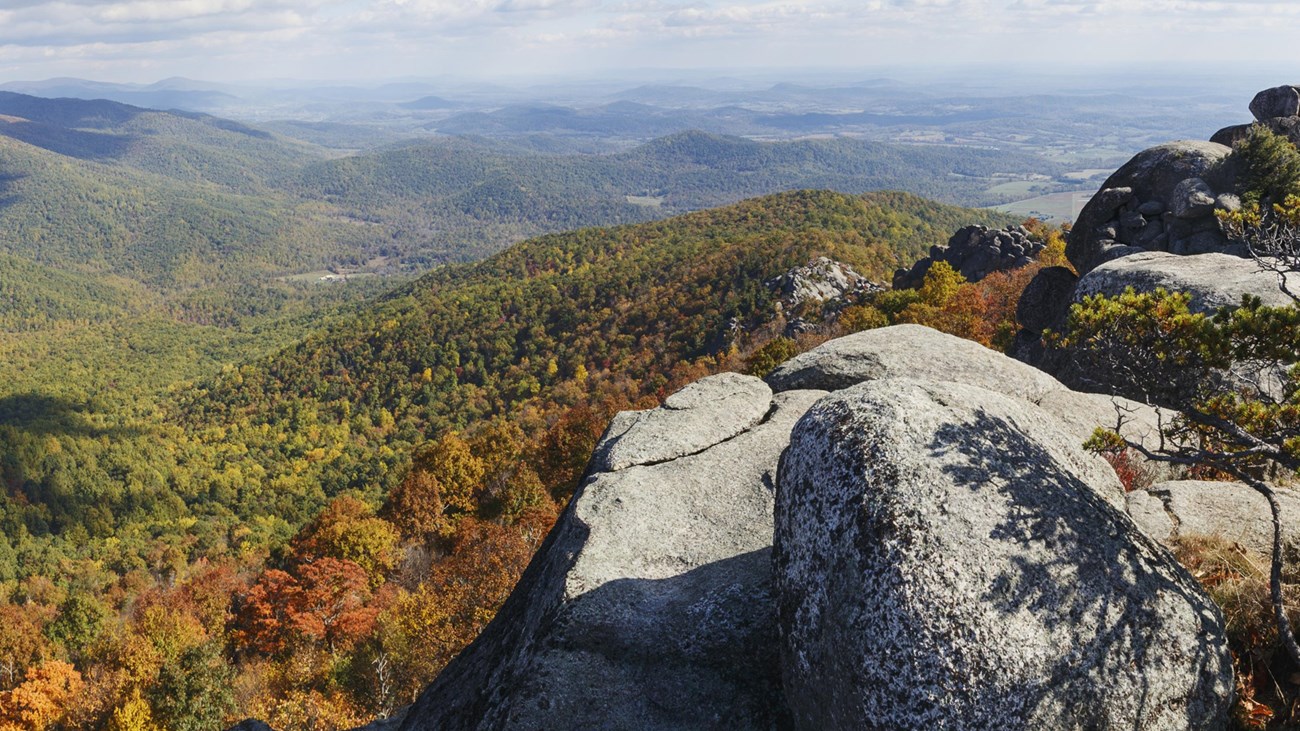 From March 1 - November 30, visitors to Old Rag Mountain, including hikers on the Saddle, Ridge, and Ridge Access trails, will need to obtain an Old Rag day-use ticket in advance, in addition to a Park entrance pass. Find out more information on our Old Rag day-use ticket FAQ page.
---
Pets are not allowed on this hike. Old Rag is a popular, strenuous hike with sweeping views. This route starts from the Berry Hollow parking area and allows you to get to the summit without having to navigate the rock scramble. Even without the scramble, however, hiking to the summit is physically demanding and can be dangerous if you have not planned properly. Be sure to check out our Old Rag planning guide before you lace up your boots! 
---
Distance: 5.4-mile round trip hike
Difficulty: Strenuous (hiking difficulty scale)
Hiking Time: 6 hours 15 minutes
Elevation Gain: 1,760 feet
---
Hike Description 
From the trailhead at the Berry Hollow Parking Area on the Park boundary, hike the Berry Hollow Road 0.8-mile to the junction with Old Rag Fire Road.
Turn right and continue 0.4-mile to the Old Rag Shelter.
Turn left onto the Saddle Trail and continue the remaining 1.6 miles to the summit.
Return to the parking area by the same route to avoid the Ridge Trail rock scramble.
---
The average hiking duration does not take into consideration fitness, exploration, rest, contemplation, etc.
Pets are prohibited on the Ridge, Saddle, and Ridge Access trails, as well as the section between Post Office Junction and Old Rag Shelter.
Location
Central District (Park Boundary)
Directions to Berry Hollow Parking from Sperryville
Start by taking Route 231 South past the turnoff for Nethers. From Madison, start from Route 29 Business, turning onto Route 231. Once on Route 231 (from either Sperryville or Madison), turn onto Route 670 near Banco. Turn right at Syria, then left onto Route 600. Go past the Whiteoak Canyon parking area to Berry Hollow parking area. Parking is extremely limited.
Accessibility Information
Although pets are not allowed on Old Rag Ridge Trail, Old Rag Saddle Trail, Ridge Access Trail, or Old Rag Access Trail, service animals are welcome. This trail does not meet ADA accessibility guidelines.
Last updated: March 2, 2023