THING TO DO
Old Rag Circuit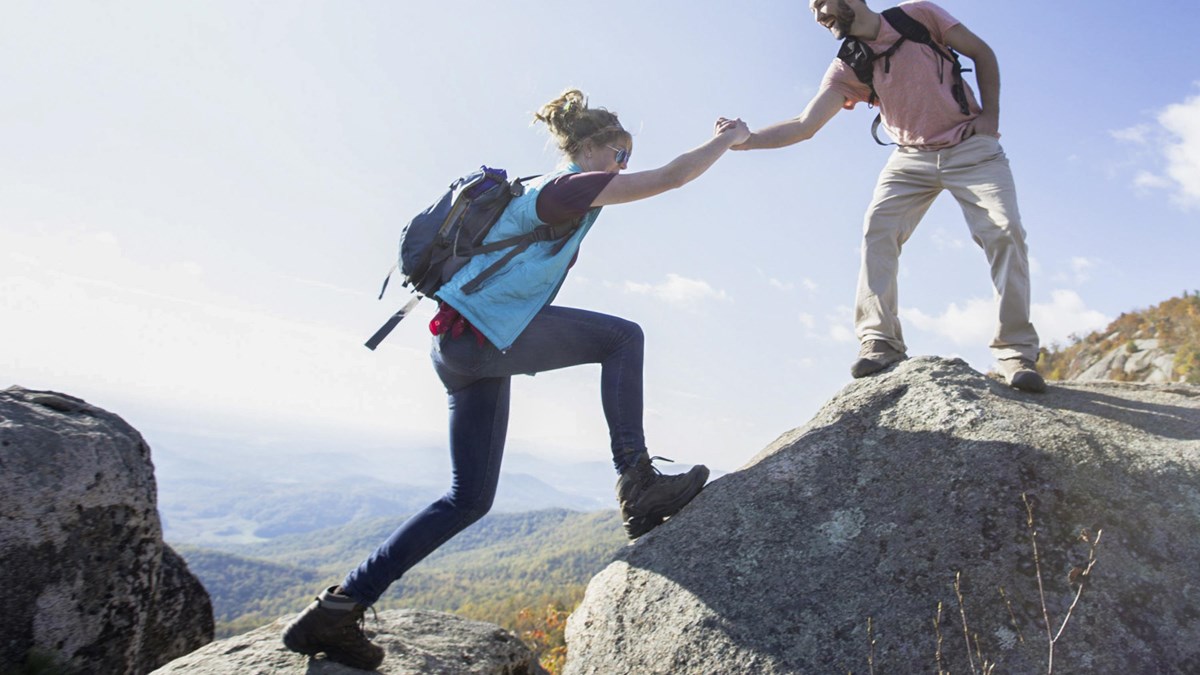 Pets are not allowed on this hike. Featuring an adventurous rock scramble and a 360-degree view that makes you feel like you're on top of the world, there's no wonder why Old Rag is the most popular destination in Shenandoah National Park. While highly rewarding, hiking to the summit is also very physically demanding and can be dangerous if you have not planned properly, so be sure to check out our Old Rag planning guide before you lace up your boots! 
---
Distance: 9.4-mile circuit hike
Difficulty: Very Strenuous (hiking difficulty scale)
Hiking Time: 7 hours 30 minutes
Elevation Gain: 2,348 feet
---
Hike Description
From the Old Rag parking area at the Park boundary, take the blue-blazed Ridge Trail.
Continue along the Ridge Trail, across the rock scramble and descend on the Saddle Trail (blue-blazed), which becomes a fire road after you pass Old Rag Shelter.
At the T-intersection, go right and immediately right again at the fork onto Weakley Hollow Fire Road (yellow-blazed).
Turn right onto the Ridge Access Trail and then left onto the Ridge Trail to return to your starting point.
---
The average hiking duration does not take into consideration fitness, exploration, rest, contemplation, etc.
Pets are prohibited on the Ridge, Saddle, Old Rag Access, & Ridge Access trails.
An entrance fee is required to get into Shenandoah National Park.
Location
Central District (Park Boundary)
Directions to Old Rag Parking from Sperryville: From Route 211, turn onto Route 522 and follow it south for 0.8-mile. Turn right on Route 231, follow 8 miles, turn right onto Route 601 and follow signs to the Old Rag parking area, approximately 3 miles.
Directions to Old Rag Parking from Madison: From Route 29 Business, turn onto Route 231 and follow it for 12.8 miles. Turn left onto Route 602. Follow signs for the parking area. Old Rag parking is approximately 3 miles from the turn onto Route 602.
Accessibility Information
Although pets are not allowed on Old Rag Ridge Trail, Old Rag Saddle Trail, Ridge Access Trail, or Old Rag Access Trail, service animals are welcome. This trail does not meet ADA accessibility guidelines.
Last updated: February 22, 2021