Thing to Do
Hike to Kings Creek Falls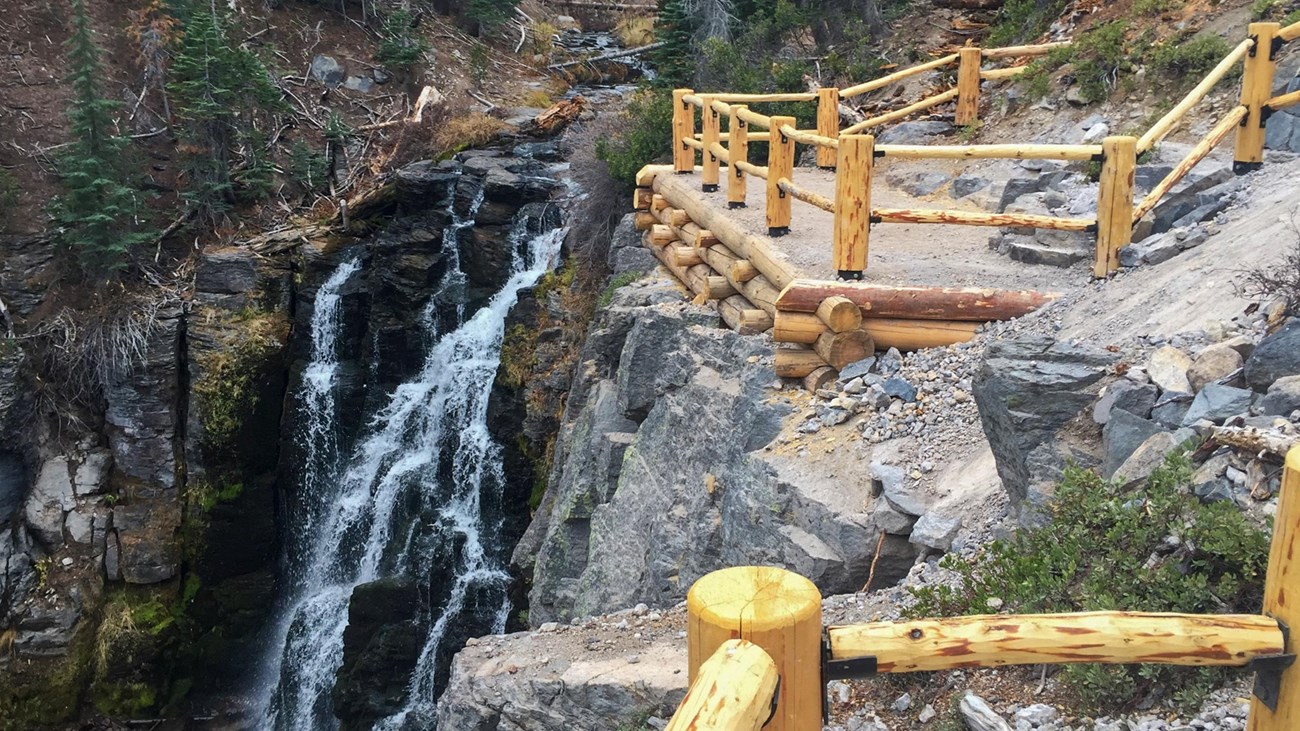 Start: Kings Creek Falls Trailhead
Round Trip Distance: 2.3 miles (3.7 km) loop
Round Trip Time: 2 hours
Terrain: Gradual 700 foot descent along Upper Cascades section; steep, narrow stone staircase for one-way, uphill return via Cascades Foot Trail.
Elevation Start / Loss: 7,286 feet (2220m) / 486 ft (148 m)
Season: Approximately June through October
Stock Use: Stock are not permitted on the Cascades Foot section

Kings Creek Falls is partily open - park staff will continue with repairs. 

Kings Creek Falls can be accessed via a loop or an out-and-back hike. The first half mile passes along Lower Kings Creek Meadow. The loop then begins to the left (clockwise) along the Upper Cascades section, which offers expansive vistas as it steadily descends towards Kings Creek Falls. A fenced overlook provides a clear view of the 30-foot waterfall. Hikers can return to the trailhead on the same Upper Cascades section or loop back on the Cascades Foot section. Please travel uphill only on this narrow, steep section alongside the cascades to help improve your safety and the safety of others.
How to Hike This Trail Safely
Hiking the Kings Creek Fall Trail involves risk. Learn more about general hiking safely in this high elevation and remote park. Special considerations for this trail include:
Winter conditions can persist through the summer months, especially in the forested sections of the trail. Wear proper footwear and consider using trekking poles to help maintain balance. 
Hiking at high elevation can aggravate preexisting medical conditions. Know the effects of altitude. Carry plenty of water, take breaks often, and do not exceed your abilities.
Bears are occasionally sighted in this area. Learn more about how to be bear aware to protect yourself and wildlife.
Traveling off-trail around the waterfall is strongly discouraged. For your safety, please stay behind the overlook railings. Snow melt significantly increases water flow in the spring season and increases the danger of drowning or being swept over the falls.
Creek crossings can be hazardous during the spring snow melt season. Use caution when crossing, wear proper footwear and carry extra clothing.
This 2.3-mile loop takes about 90 minutes. The exact time required depends on how quickly you walk, how often you stop, and how long you enjoy the waterfall and cascades.
This popular, short hike is often busy. The waterfall can only be viewed by hiking the trail to the overlook. The trail itself provides many scenic views of mountain meadows, meandering creeks, and tumbling cascades. 
Visitors of all ages are able to enjoy this hike. Hikers eight and younger will likely need assistance on the large stone steps in the Cascades foot section. Young hikers might also need assistance on some of the slopes on the upper cascades section, which can be slippery especially when dry and dusty.
Pets are not permitted on park trails, including in a carrier. This regulation does not apply to service animals assisting a person with a disability.
There is no fee to hike this or any trail in the park. An 
entrance fee or valid pass
 is required to enter Lassen Volcanic National Park.
Location
Kings Creek Falls Trailhead
Kings Creek Falls Trailhead is located on Lassen Volcanic National Park Highway, approximately 12 miles from the Southwest Entrance. Kings Creek waterfall is accessible only by trail. Parking is extremely limited here and is often full from mid-morning to late-afternoon. Arrive early or visit on a week day to increase your chances of finding parking. Please ensure your vehicle is completely outside the white line so that it is not blocking the highway. Park on durable surfaces only (roadway, dirt, or rock); not on grass. 
There are no reservations for park entrance or to hike park trails.
The Kings Creek Trailhead is located at high elevation (7,300 feet). The park highway must be open to through traffic to reach the trailhead. The park highway closes to through traffic in the winter and early spring seasons (approximately December through May) due to snow. Snow can linger on the Kings Creek Trail well into June or July. Hikers may benefit from snowshoes, snow/ice traction devices, and/or trekking poles when snow is present. 
Accessibility Information
The Kings Creek Falls Trail is primarily comprised of hardpacked dirt. A staircase provides access to the trail from the parking area along the park highway. There are numerous slopes along the trail and some sections can be dusty and slippery, especially in the dry season. There is at least one seasonal marsh crossing that requires crossing a log bridge. The one-way cascades foot section includes steep, rock steps that climb parallel to the creek. This trail is not recommended for hikers with mobility impairments. Service animals assisting a person with a disability are permitted on park trails.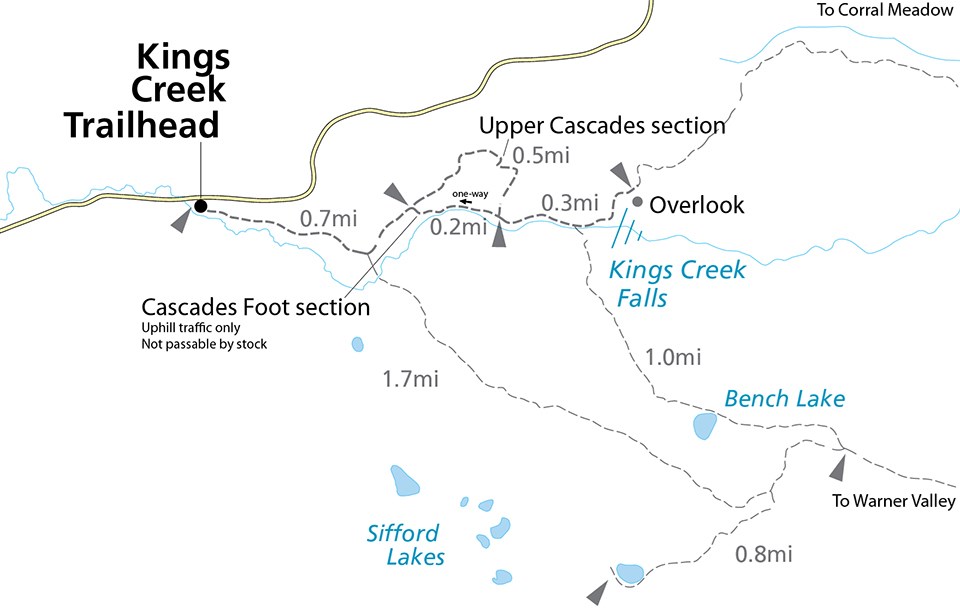 Last updated: September 30, 2022