Thing to Do
Hike Precipice Loop

Rising over 1,000 feet in 0.9 miles, the Precipice Trail requires physical and mental strength. It is a rugged, non-technical climb with open cliff faces and iron rungs. Upon reaching the summit of Champlain Mountain, climbers are rewarded with impressive views. It is not recommended for small children, for people with a fear of heights, or for anyone in wet weather. Descending the Precipice is dangerous and not advised.
 
Distance: 3.2 miles round trip
Terrain: Boulders, Granite stairs and slopes, iron rungs, sheer cliffs, rocky trails
Hike Description
The Precipice Loop starts with a traverse of rugged slope. A wooden bridge and occasional iron handrail allow climbers to traverse narrow, exposed ledges.
At the junction with the Orange and Black Path, the Precipice Trail continues to the left.
Several series of long iron rungs and ladders lead up the open, vertical cliff face.
Continue along granite slopes until you reach the summit.
Enjoy views of Frenchman Bay and the surrounding area from the top of Champlain Mountain.
Descending the Precipice Trail is dangerous and not advised. Return on the North Ridge Trail of Champlain Mountain. This is a moderately steep descent on open granite.
At the next junction, in 0.6 miles, turn right onto the Orange and Black Path. There are several steep sections, so care is advised.

Turn left to continue on the Champlain North Ridge Trail and to a small alternate parking area on the Park Loop Road. You will need to walk the Park Loop Road back to the parking area.

At the base of a stone staircase, the Orange and Black Path splits. A right traverses the steep slope of Champlain's East Face and intersects with the Precipice Trail.

For an easier return to the parking lot, turn left and continue down to the Park Loop Road. Take a right and walk back to the parking area. Watch for traffic.
This hike is 3.2 miles roundtrip. Duration, or how long a hike takes, depends on your pace, how frequently you stop, and the terrain. For an average pace, this hike takes 2 to 3 hours. 
This trail is not recommended for small children, due to iron rungs, ladders, and steep cliffs.
Pets are not allowed, due to the iron rungs, ladders, and many steep sections.
Although this activity is free, a 
park entrance pass
 is required for all areas of the park from May 1 through October 31.
Location
Precipice Trailhead
The Trailhead: Where to Begin
Getting to the Trailhead:
By car: Starting from ME Route 3, turn off at the Hulls Cove Entrance to the park and the beginning of the Park Loop Road. Follow the Park Loop Road 2.8 miles before turning left onto the one way section toward Sand Beach. The trail begins at the Precipice parking lot, approximately 1.5 miles past Sieur de Monts Spring.
By bus: There is no public transportation to Precipice Trailhead.
This trail and associated trails are closed seasonally to public entry to protect peregrine falcons from inadvertent disturbance or harassment during the nesting period. Park staff has observed adults at these sites engaging in courtship and pre-nesting behavior signaling the birds' intentions to nest and raise chicks during the spring and early summer. Check 
current conditions
 for updates on trail closures before hiking.
Time of Day
Day, Dawn, Dusk
Accessibility Information
The Precipice Loop is not accessible. The trails have sections with uneven footing, climbing, iron rungs and ladders, and steep, exposed granite throughout. There are no accessible restrooms at the trailhead.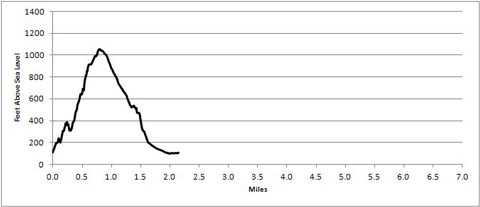 Trail Safety Tips
Check trail elevation profile before hiking. This trail is strenuous, rising over 1,000 feet in 0.9 miles
Bring a map, water, snacks, compass, and extra layers for unpredictable changes in weather.
Reduce the chance of picking up ticks by staying in the center of the trail, and not stepping on soils and away from brush.
Always do a tick check after visiting the park.
Closed-toe, good traction shoes recommended. This trail has many steep sections, with iron rungs, handrails, and exposed ledges.
Last updated: August 17, 2023