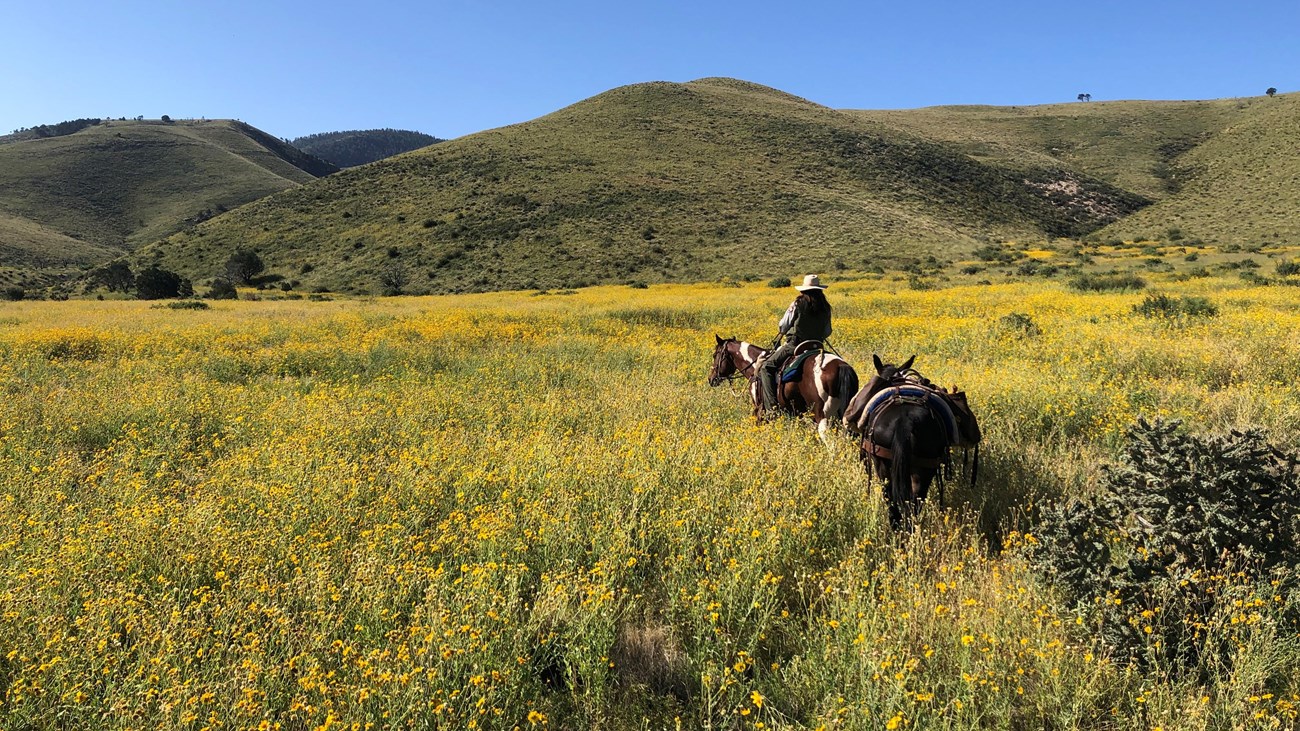 The park offers diverse riding opportunities to explore the Guadalupe Mountains. Sixty percent of the trails are open to stock use. Those closed to stock are difficult to maintain, or pass through unique and fragile areas intolerant of such use. Stock manure droppings introduce exotic plants that displace native vegetation.
There are no horses or pack animals for hire in or near the park; you must bring your own stock. All rides require thorough preparation. Improper equipment, poor conditioning, and disregard for weather conditions can result in an unpleasant or dangerous ride. Respect for the environment you ride through will help further the mission of protecting park resources for you and for future generations.
Stock are permitted on the following trails only. No off-trail riding is allowed. Trail riding begins at the corrals located at Dog Canyon or the Frijole Ranch.
Before You Ride
All riders must obtain a free Wilderness Use Permit at the Pine Springs Visitor Center to document your planned route, the number of riders, and the number of stock. 
Easy Trails
Gentle grade, easy to follow.
Foothills Trail

Williams Ranch Road

Frijole Trail
Moderate Trails
Steeper grades; rocky sections; generally easy to follow; may require dismounts; intermediate rider experience; stock conditioned to mountain trails.
Bush Mountain Trail - Dog Canyon to Marcus Trail

Marcus Trail

Tejas Trail - Dog Canyon to Pine Top

McKittrick Canyon Trail - Tejas Trail to McKittrick Ridge Campground

El Capitan Trail - Pine Springs to Salt Basin Overlook

Salt Basin Overlook Trail (lower loop)
Difficult Trails
Steep grades; narrow sections; rocky; trail may be difficult to follow; requires specific knowledge of trail or experience with similar trail conditions; for experienced riders and stock conditioned for difficult mountain terrain.
Tejas Trail - Pine Springs to Pine Top

Bush Mountain Trail - Pine Top to Bush Mountain Campground

El Capitan Trail - Salt Basin Overlook to Williams Ranch
Guadalupe Peak is Closed to Stock Use
The entire Guadalupe Peak Trail complex is closed to public stock use at this time to reduce the risk of injury to stock and human visitors, as well as to reduce the occurrence of use conflicts on the most popular trail within the park.  
Camping and Corral fees may apply depending on the nature of your trip. 
A free Wilderness Use Permit for all trail riding in the park must be obtained at the Pine Springs Visitor Center. 
Riding is limited to day trips only. All stock must return to the corrals each night.
Accessibility Information
Trail surfaces are loose rock or hardened rock surfaces. Hiking or trekking poles are highly recommended. Trail widths vary from two to six feet depending on the trail. 
Parking
All trailhead areas have accessible parking available. 
Service animals 
Only service animals that have been individually trained to perform specific tasks for the benefit of persons with disabilities are allowed in the park and on trails.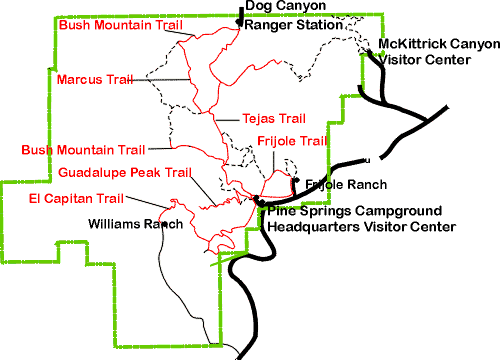 Trails open to stock are shown in red on the park map.
Last updated: March 8, 2023