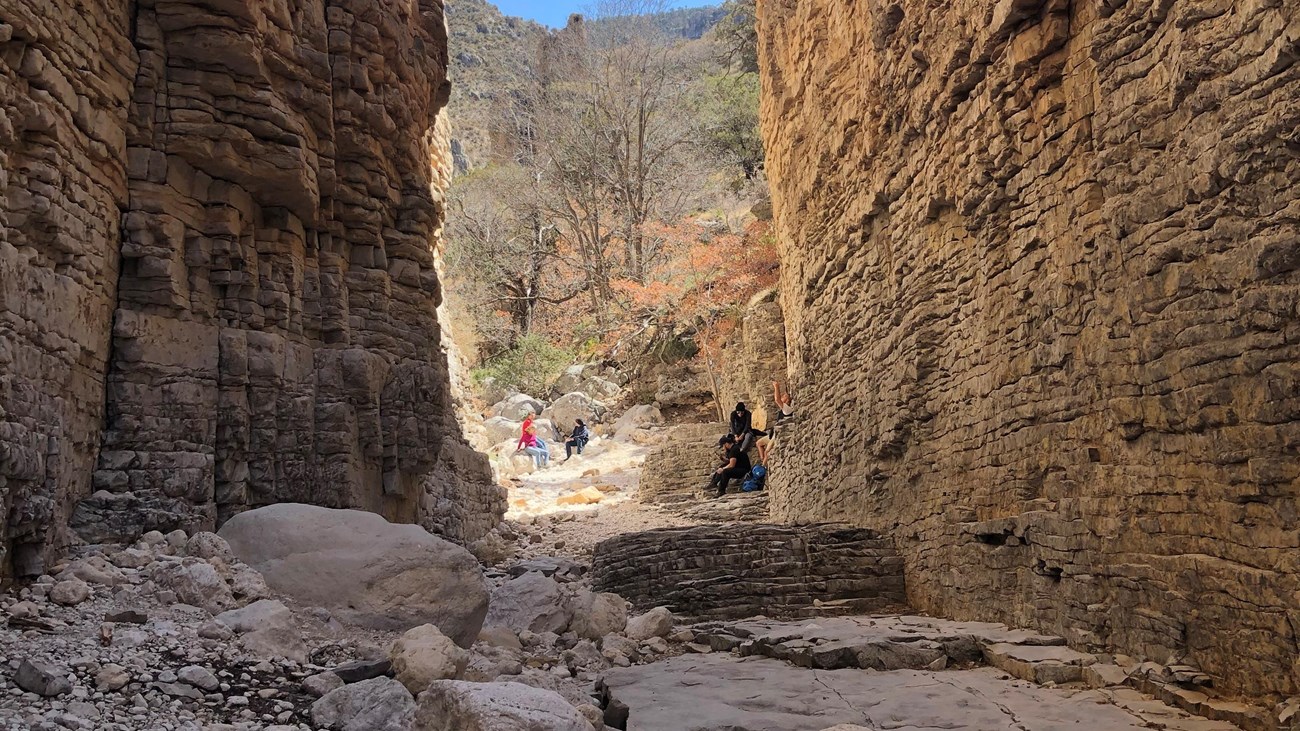 The route to Devil's Hall departs from the Pine Springs Trailhead and is 4.2 miles round-trip. After the first mile the trail leads to a rocky wash which takes hikers to an impressive natural rock staircase leading to a "hallway" formed by steep canyon walls. The wash portion of the route requires the hiker to scramble over large boulders and other debris. This route offers spectacular views of geologic formations, steep canyon walls, tall trees, and mountaintops.

Distance: 4.2 miles (6.8 km) round-trip, out and back
Elevation Change: 548 feet
Time Estimate: 3-5 hours
Difficulty: Strenuous, with rock scrambling and loose rock surfaces. 
CAUTION: 
Due to increasingly frequent heavy rain events in the late summers, the portion of the Devil's Hall trail in the wash is covered in loose rocks, boulders, and other debris. Visitors should exercise caution, use proper footwear, and trekking poles. Do not attempt to climb in the wash or canyon walls in wet or rainy conditions. 

At two places the route enters and exits desert washes; proceed with caution and carefully observe the landscape. Some visitors struggle to find the trail after dark or if they are unprepared. 
After following one mile of constructed trail, turn left and follow the route through the wash. The wash is extremely rocky and will require occasionally scrambling over boulders of varying size. Continue for one mile up the wash to the Hiker's Staircase and Devil's Hall. 
All ages, but minors must be with an adult parent or guardian.
While this is generally a year-round route in good weather, Devil's Hall can be a good hike for fall colors from mid-October to mid-November.
If hiking in the late afternoon, be sure to carry flashlights and headlamps. In the dark the trail out of the wash can be easily missed.
Accessibility Information
Trail surfaces are loose rock or hardened rock surfaces. Hiking or trekking poles are highly recommended. Trail widths vary from two to six feet depending on the trail. 
Parking
All trailhead areas have accessible parking available. 
Service animals 
Only service animals that have been individually trained to perform specific tasks for the benefit of persons with disabilities are allowed in the park and on trails.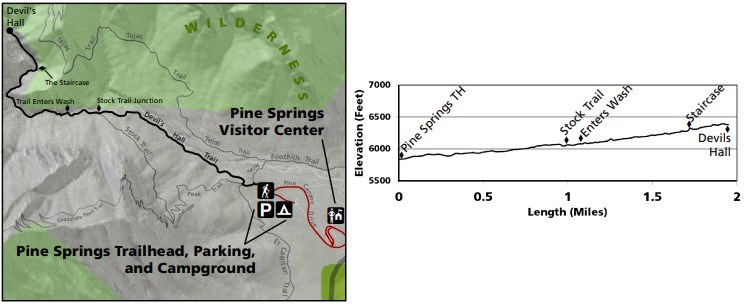 Trail map and elevation chart for the Devil's Hall Trail
Search and Rescue Policy
Search and rescue actions are conducted on a discretionary basis. The level and necessity of the response is determined through evaluation of the situation by field personnel. Rescuer safety is always our first priority. This park expects visitors to exhibit a high degree of self-reliance and responsibility for their own safety in line with the difficulty of their chosen activities.

If you choose to carry a hand-held electronic signaling device, be familiar with its operation, limitations, and frequency of failure to transmit. Do not rely on it to summon rescue personnel or notify family that you are "OK". The device only acts as a communication link. All decisions regarding rescue will fall to park field staff. If you do activate the emergency help function on the device, understand the consequences of what you may be asking of rescue personnel.

If you find yourself in a true emergency and have exhausted all means of self-rescue/help, contact a ranger in the field or call 911 or Texas DPS Pecos Dispatch (432) 447-3533. There is little to no cell reception in most areas of the park. When you make contact, provide clear and concise information regarding the nature and exact location of the problem or injury, as well as the number of people involved. Be aware that help may be several hours to several days out. You must be prepared to help yourself.

If you have any questions, please contact the Visitor Center at (915) 828-3251.
Last updated: November 29, 2022